October 26, 2019 9:00 am - 3:00 pm
1095 E. Willow Street, Long Beach, California 90807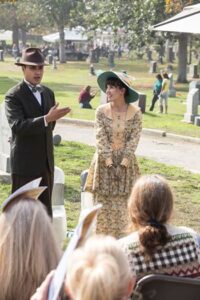 Beginning in 1995, the HSLB has conducted an annual living history tour at the city's two oldest cemeteries. Located on Willow Street between Orange and California and adjacent to one another, Long Beach Municipal Cemetery and Sunnyside Cemetery are "home" to more than 20,000 past residents of the area.
The tour takes place the Saturday on or before Halloween and features graveside presentations by professional and volunteer actors who relate the life and demise of the person lying in rest. Each year's program features a number of stories – some are individuals who helped shape the city's political past, others are ordinary people whose tales remind us that rich or poor, famed or nearly forgotten, everyone has a story to tell. Period costumes worn by all the performers further heighten the experience with an aura of authenticity. Many guests get so involved in the presentation that questions like "What was it like to live here in 1920?" are often asked of the performers.
The tour is appropriate for families and all ages. There is nothing scary about the vignettes or the location.
Saturday, October 26th, 2019
Gates open at 8:30am, performances begins at 9am and run through to 2:40pm.
Pre – Sale Ticket Prices
$20 General Admission
$15 Members
$8 Youth ages 5- 18
$1 Youth ages 4 and under.
Ticket prices at the gate $25 general & $20 for members.
Printed copy of ticket or proof of purchase must be present to enter event.
Purchase tickets below