Cruisin', Clubs & Drag Strips: Exhibition coming July 2018
Teens cruising in their beloved cars emerged as a fixture of Southern California culture from the 1930s through the 1960s, when the phenomenon reached the height of its popularity. Celebrated in film and song, cruising in customize rides and hot rods served up a youthful counterpoint to the era of the family Sunday drive. Fueled by high school youth, a growing number of active local car clubs, drive-in restaurants, theaters, hang outs, and the lure of the iconic Lion's Drag Strip, Long Beach became a focal point amidst this cultural movement. Long Beach clubs like the Vulcans, Sultans, Merroders, Long Beach Cavaliers and Long Beach Renegades, Cut Outs, Rollin' Stones, Road Kings, Carbonides and Furys, the MG Club, Studebaker Club, Jesters, Torks, and many others fanned the cultural flames at high school parking lots, drive-ins and drag strips, and ruled the streets of their Long Beach neighborhoods and commercial corridors.

Learn how you can become an exhibition sponsor today!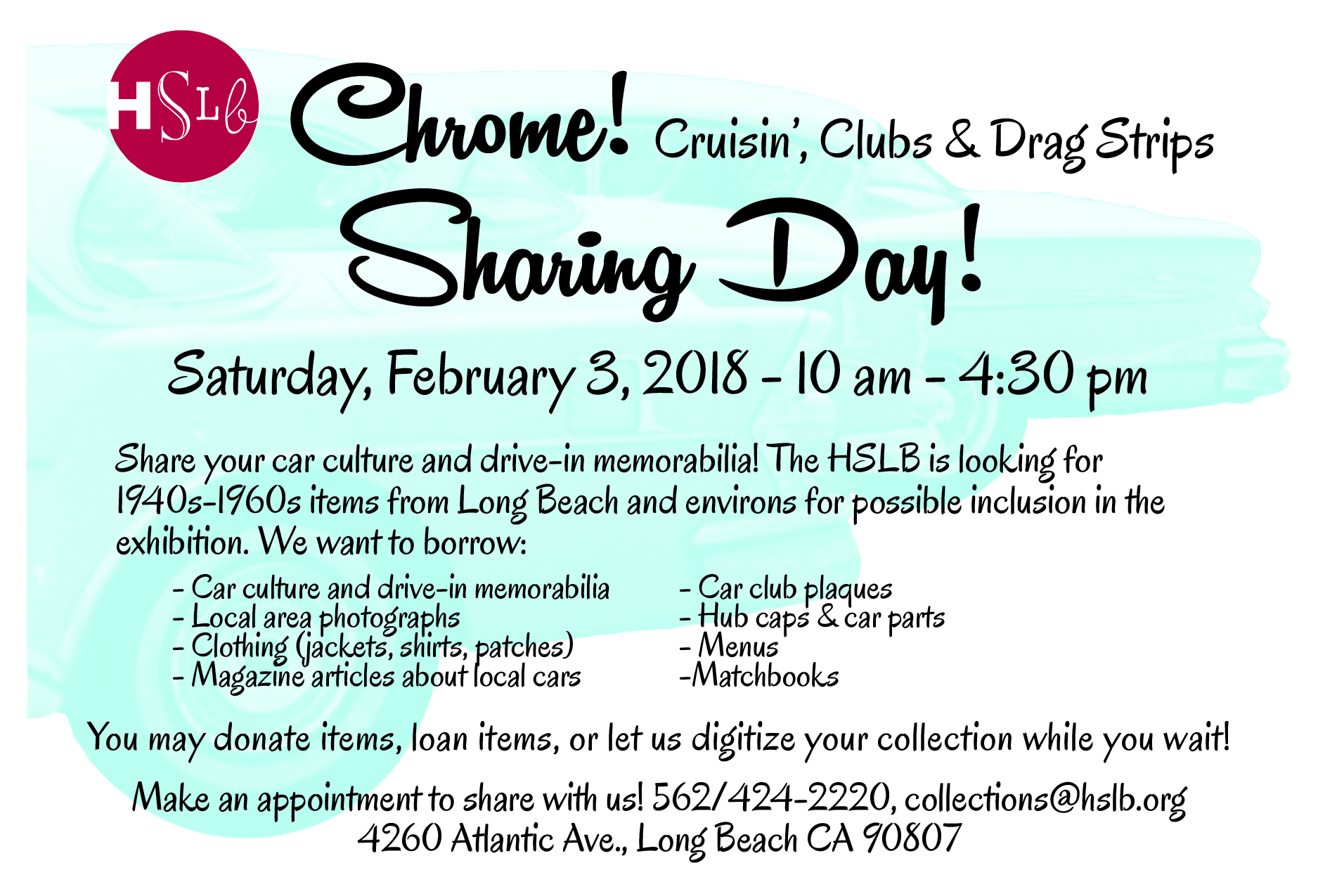 On February 3rd, 2018 we will be hosting a "Sharing Day" at the HSLB Gallery in Bixby Knolls. We invite you to share your car culture and drive-in memorabilia with us! The HSLB is looking for 1940s – 1960s items, from Long Beach and environs, for possible inclusion in the exhibition. You may donate items, lend items, or let us digitize your collection while you wait!
Make an appointment by calling us at 562/424-2220 or submit the following form:
---
Chrome! Sharing Day Appointment RSVP