CLICK HERE FOR SPONSORSHIP INFO
CLICK HERE FOR TRIBUTE AD INFO
20th Annual Historical Cemetery Tour
Saturday, October 31, 2015
---
NEW ONLINE TICKETS:
Print from home or just bring them on your phone.
| Ticket Type | Price | Cart |
| --- | --- | --- |
| General Admission Ticket | $20.00 | |
| HSLB Member Ticket | $15.00 | |
| Student Ticket | $8.00 | |
| Small Child Ticket | $1.00 | |
How it works: Online tickets give you the most flexibility and help us expedite admissions to the Tour. After purchase, you'll get a confirmation email with a link to your ticket/s. Use the link to download and print your ticket/s at any time, or even better just bring the e-mail on your smart phone. With ticket in hand, you'll get scanned right in at the gate.
---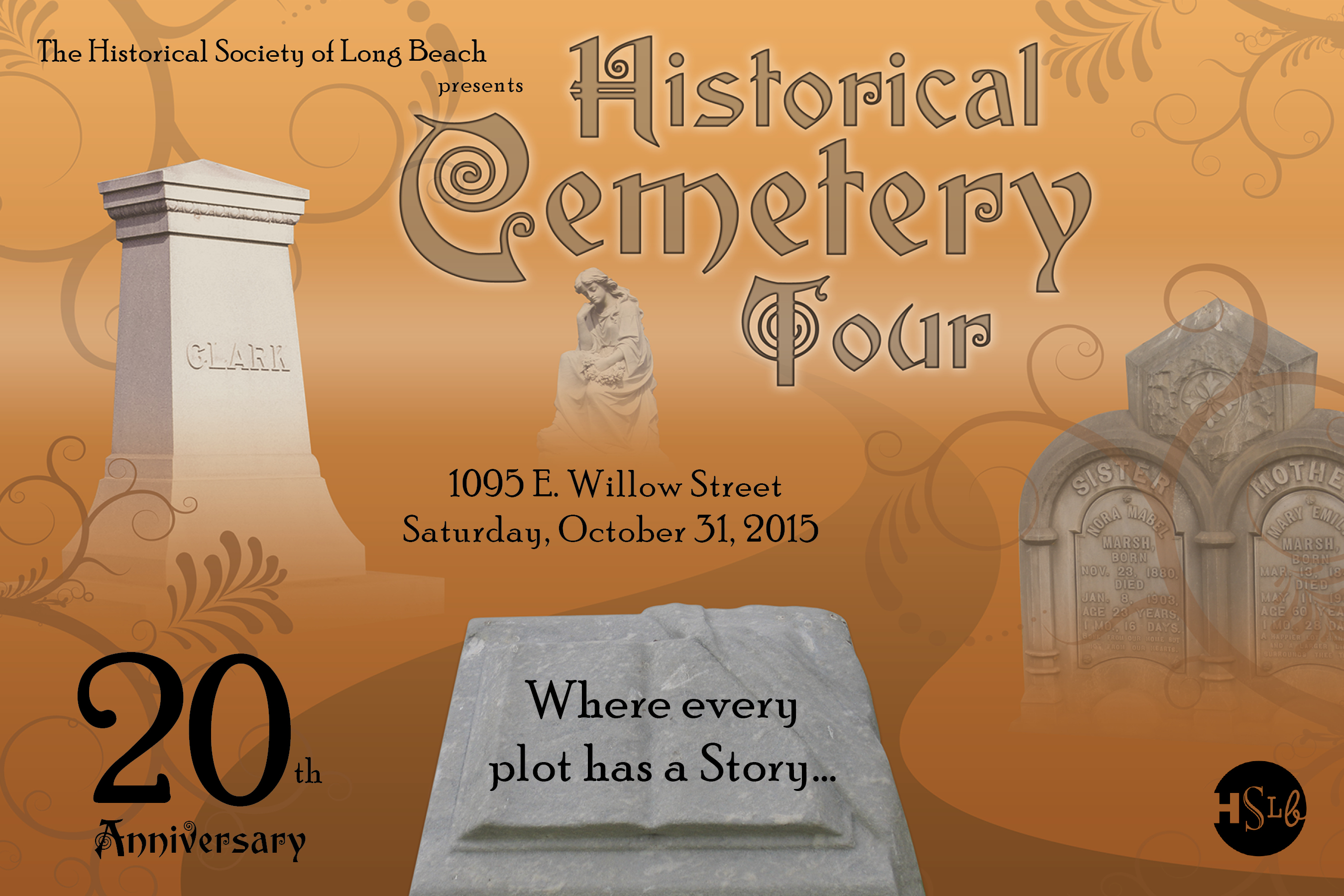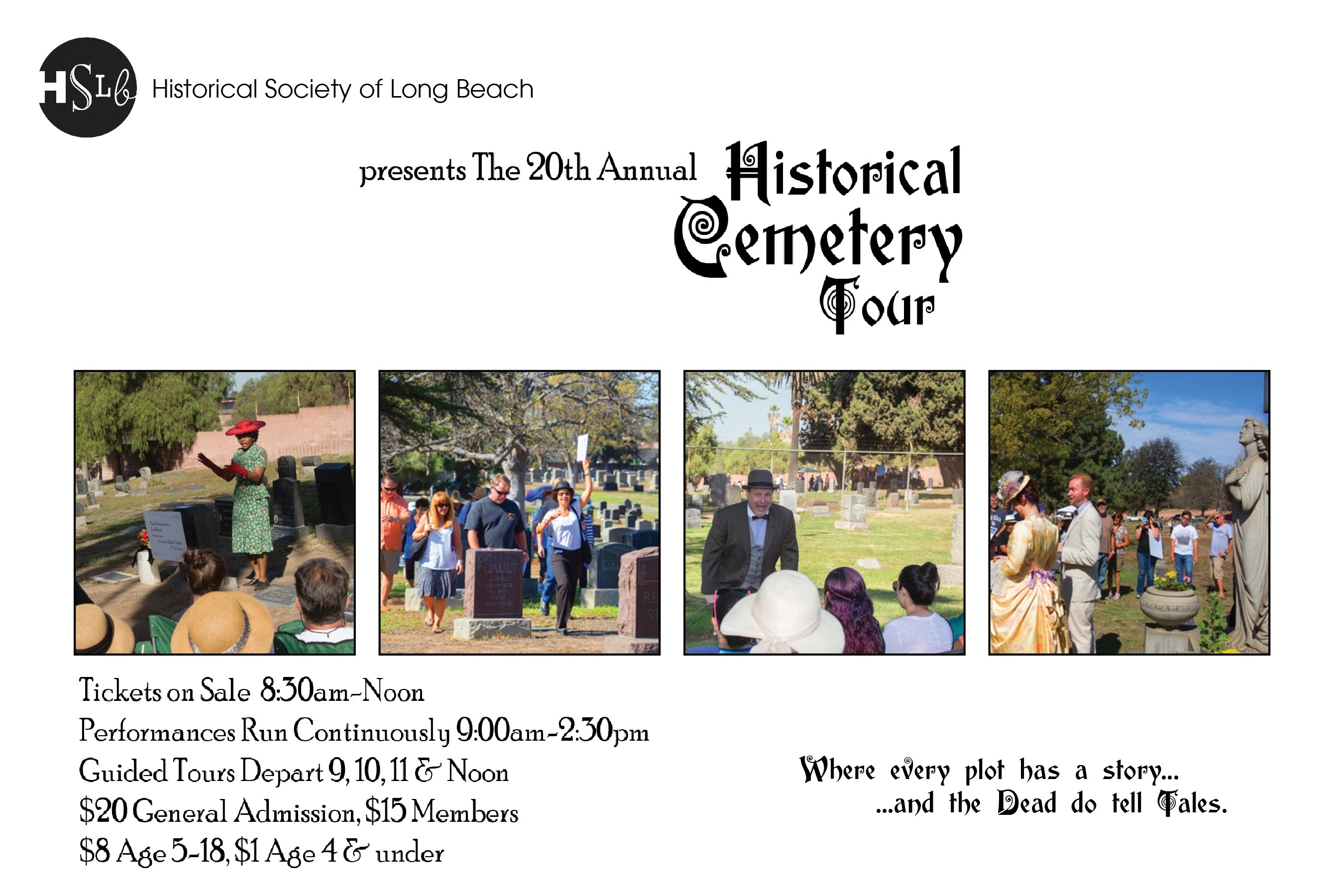 ---
A Little Background on the
Historical Cemetery Tour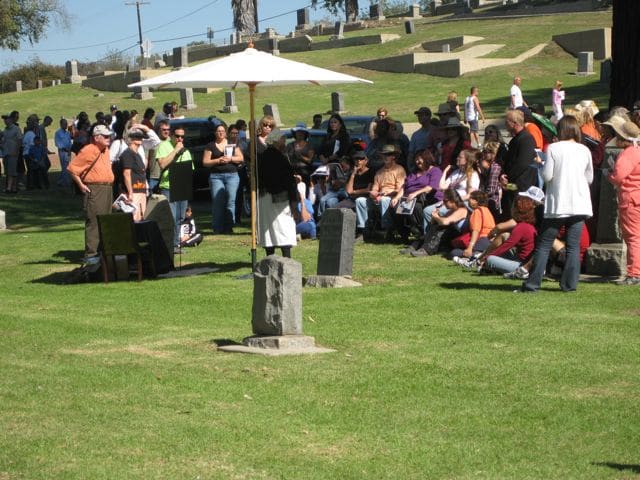 Beginning in 1995, the HSLB has conducted an annual living history tour at the city's two oldest cemeteries. Located on Willow Street between Orange and California and adjacent to one another, Long Beach Municipal Cemetery and Sunnyside Cemetery are "home" to more than 20,000 past residents of the city.
The tour takes place on the Saturday before Halloween and features graveside presentations by professional and volunteer actors who relate the life and death of the person lying in rest. Each year's program features a number of stories – some are individuals who helped shape the city's political past, others are ordinary people whose tales remind us that rich or poor, famed or barely remembered, everyone has a story to tell. Period costumes worn by all the performers further heighten the experience with an aura of authenticity. Many guests get so involved in the presentation that they forget that it's an actor telling the story and ask "what was it like to live here in 1920?"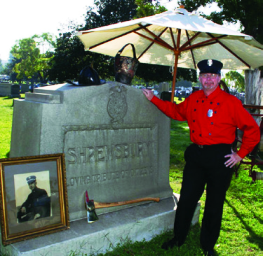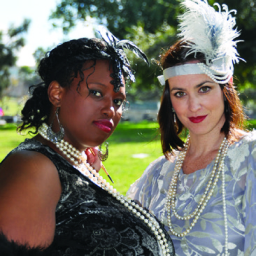 The tour is appropriate for families and all ages. There is nothing scary about the presentations or the location. The ground is uneven, so we recommend comfortable shoes. And typically the morning is chilly but by afternoon it's quite warm, so removable sweater or coat is recommended. There is some parking inside the cemetery and easy parking in the surrounding neighborhood.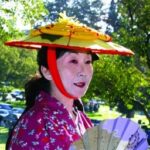 Tickets are sold the day of the tour only, from 8:30 a.m. until noon at the entrance (just inside the Sunnyside Cemetery main gateway on Willow Street). The tour takes approximately two hours to complete, and the last presentations are at 2:00 p.m.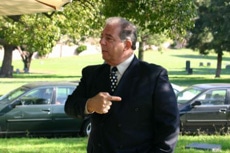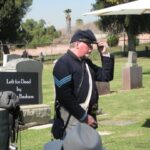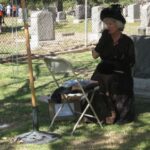 A big thank you to the Long Beach Playhouse and Artistic Director Denis McCourt for his assistance providing costume coordination for the Historical Cemetery Tour. Mayor Bob Foster, above left, has been a volunteer actor for several tours. Among the stories he has told, a favorite was Kid Mexico, a.k.a. the Bingo Baron of Signal Hill.
---
Awards
Hollywood Gothique's 2014 Halloween Haunt Award Nominees:
⌖ Best Play in a Non-Theatrical Setting: HSLB's 19th Annual Historical Cemetery Tour
⌖ Best Short Play or Vignette: Fighting Injustice with Tacos from HSLB's Historical Cemetery Tour
⌖ Best Non-Haunt Halloween Event: HSLB's 19th Annual Historical Cemetery Tour
---
2014 Historical Cemetery Tour Video Media
---
Video from the 2013 Historical Cemetery Tour
Video from the 2012 Historical Cemetery Tour
Video from the 2011 Historical Cemetery Tour
---