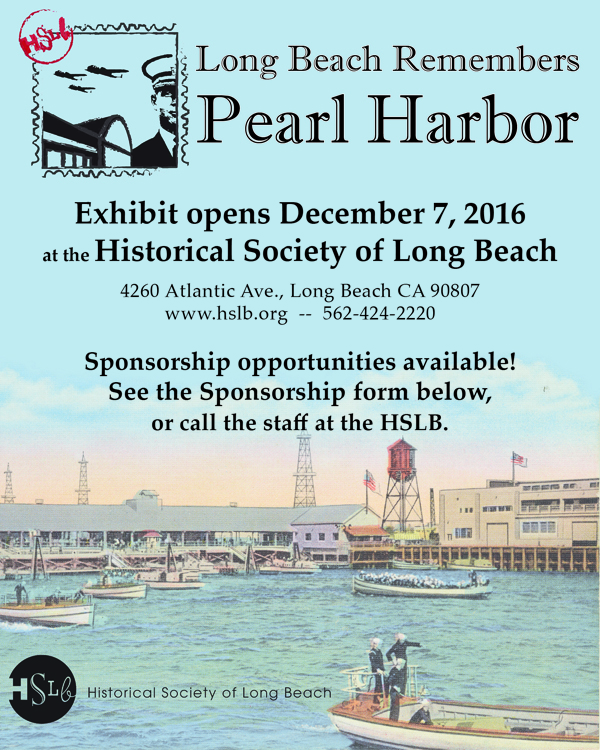 On December 7, 1941, the bombing of Pearl Harbor shocked the nation and propelled the United States into World War II.
Long Beach was a strategic stronghold as a major staging area for the Pacific conflict. The war touched everyone who lived here. Many of the ships in Hawaii on that fateful day spent months in Long Beach before the bombing. Officers and enlisted men on the ships left families and friends in Long Beach. The event not only transformed the war in the Pacific, it transformed the lives of Long Beach residents and the city's economy and infrastructure. The bombing of Pearl Harbor was the catalyst for airport, harbor, and industrial development, and laid the groundwork for the Long Beach that we know today.
Seventy-five years later, on December 7, 2016, the Historical Society of Long Beach (HSLB) presents an exhibition entitled Long Beach Remembers Pearl Harbor. Using photos, newspapers, items from its collection and others collected from the community, it will commemorate this important anniversary of the event that torpedoed the United States into the Second World War.

Press coverage:
•Press-Telegram, Nov. 27, 2016 — Long Beach to commemorate 75th anniversary of Pearl Harbor bombing
•Press-Telegram, Dec. 6, 2016 — Pearl Harbor Day remembrance events planned
•Press-Telegram, Dec. 7, 2016 — Long Beach leaders, veterans honor sacrifice of those died at Pearl Harbor 75 years ago
•Gazettes, Dec. 2, 2016 — ANOTHER VIEW: Pearl Harbor's 75th Remembered In, Tied To Long Beach (by HSLB Board Member Dr. Craig Hendricks)
•Gazettes, Dec. 5, 2016 — Long Beach To Remember 75th Anniversary Of Attack On Pearl Harbor
•Signal Tribune, Dec. 1, 2016 — 'An event that changed history' – HSLB to host exhibition recognizing 75th anniversary of Pearl Harbor attack
•LBPost.com, Nov. 29. 2016 — Long Beach Remembers Pearl Harbor on 75th Anniversary with New Exhibit
•Long Beach Business Journal, Nov. 7, 2016 — Marking The 75th Anniversary Of The Attack On Pearl Harbor
•KTLA 5 TV, Dec. 7, 2016 — Pearl Harbor Day – Long Beach Connection (video)

Photos from the Opening Reception:

"Lest We Forget December 7, 1941" Memorial Service — Held at Long Beach City Hall at precisely 9:50 a.m. on December 7, 2016:

---
THIS EXHIBITION IS MADE POSSIBLE BY OUR GENEROUS SPONSORS
SPECIAL CONTRIBUTOR
Long Beach Navy Memorial Heritage Association
GOLD SPONSORS
Molina Healthcare  •  Los Angeles County Supervisor Don Knabe, 4th District  •  Evalyn M. Bauer Foundation
SILVER SPONSORS
Port of Long Beach  •  James & Elizabeth Breslauer  •  Matson Foundation
BRONZE SPONSORS
Boeing Employees Community Foundation  •  St. Mary Medical Foundation
COMMUNITY PARTNERS
Miller Foundation  •  Long Beach Airport  •  Niki Tennant  •  Leo & Judith Vander Lans
Roxanne Patmor  •  John R. Deats  •  Joan & Joseph Van Hooten  •  Diane Jacobus
Kristi Fischer & Joe Vanderhorst  •  Mike & Arline Walters  •  Don Temple Family Foundation
Long Beach Convention & Entertainment Center  •  John W. & Elizabeth Hancock  •  Arts Council for Long Beach
DISPLAY CASE SPONSORS
Assembly Member Patrick O'Donnell  •  Council Member Al Austin  •  Mitchell Land Company
Melanie & David Werts  •  Evan Anderson Braude  •  Jerry Miller  •  Gregg Whelan
Jean Smith  •  Nelson Farris  •  Bob T. Hight
Your sponsorship makes exhibitions like this one possible — please join us as a sponsor today.
---
~ SPONSORSHIP OPPORTUNITIES ~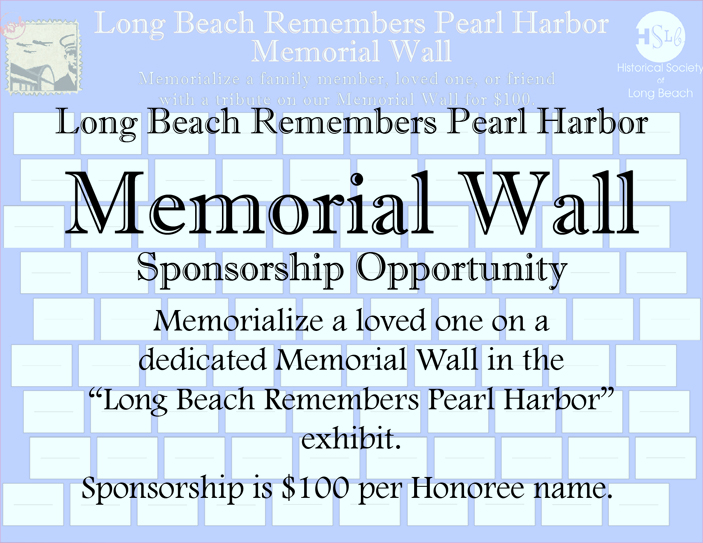 See below for Sponsorship Level details. Sponsorships may be purchased online or by check.
ONLINE SPONSORSHIP FORM
(payment by credit card or paypal)
Click Here for a Printable Form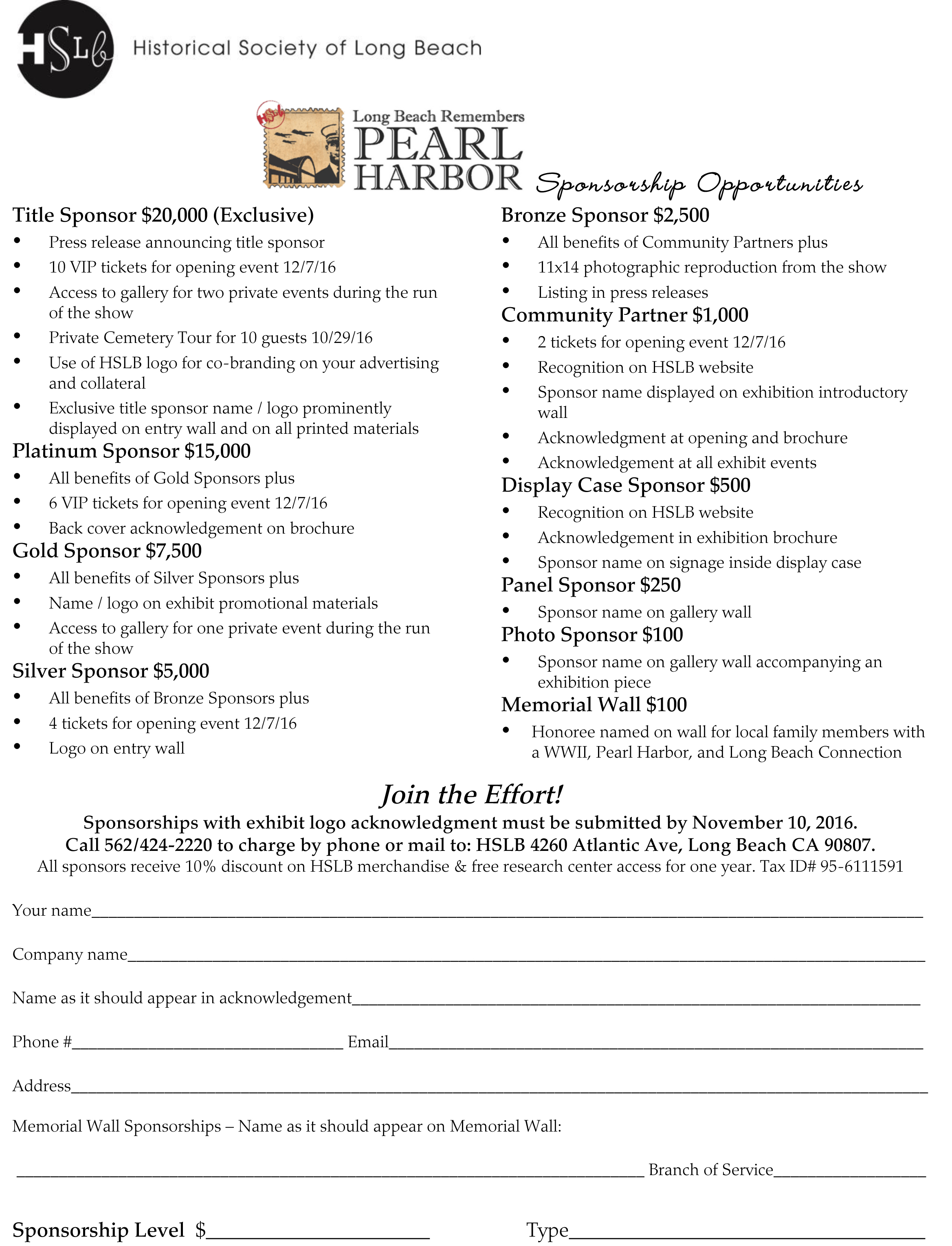 To pay by check please fill out the form and send to:
Historical Society of Long Beach
4260 Atlantic Avenue
Long Beach, California 90807