Thank you to everyone who attended and donated. The dedication was a great success!
---
Click here or scroll down for Online Ticket Purchase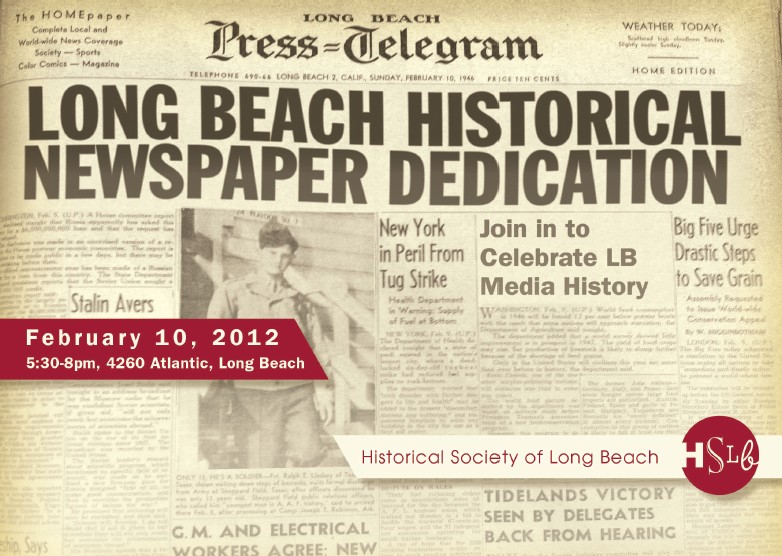 HOST COMMITTEE
Co-Chairs Julie Bartolotto, Executive Director, HSLB, and Rich Archbold, P-T Editor Emeritus/Community Liaison
Governor George Deukmejian (Ret.) ● Mayor Beverly O'Neill (Ret.)
Mayor Bob Foster ● Councilwoman Rae Gabelich

Carolina Garcia, Executive Editor, Press-Telegram ● Senator Betty Karnette (Ret.)

Lillian Kawasaki, Director, Water Replenishment District ● Supervisor Don Knabe, Los Angeles County

Geraldine Knatz, Executive Director, Port of Los Angeles ● Assemblywoman Bonnie Lowenthal

Peter Ridder, Former Publisher, Press-Telegram ● Harry Saltzgaver, Executive Editor, Gazette Newspapers

Jean Bixby Smith, Director, Bixby Land Company ● Vice Mayor Doris Topsy-Elvord (Ret.)

Hot hors d'ouvres and wine by Primal Alchemy
Silent Auction & Raffle: 5:30 – 7:30
Ribbon Cutting & Speakers 7:00
Speakers:

Jan Burke, Bestselling National Author
Tom Hennessy, Retired Columnist, Press-Telegram
Carolina Garcia, Executive Editor, Press-Telegram
Rich Archbold, Editor Emeritus/Community Liaison, Press-Telegram
The HSLB Gallery
4260 Atlantic Avenue
Long Beach, California 90807
$120 General • $100 HSLB Members
$95 with Long Beach Community Studies Conference Registration
– CALL 562.424.2220 TO RESERVE YOUR TICKET OR SEE BELOW TO BUY NOW –
A Dedication to the Community

The Historical Society of Long Beach and the Press-Telegram invite you to make history on February 10, 2012, from 5:30 to 8pm, as we dedicate the LONG BEACH HISTORICAL NEWSPAPER COLLECTION to the community. This Ribbon-Cutting will celebrate the partnership between the Press-Telegram and the HSLB, and will help to raise funds for the long term preservation and public access of these volumes.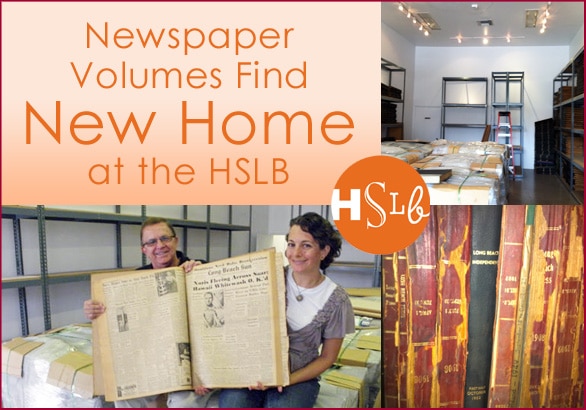 The dedication takes place the night before the Second Annual Long Beach Studies Conference, a partnership between the HSLB and Long Beach City College. The conference brings together historians, academics, students and the public to learn about the city's history through the presentation of papers and panel discussions. We linked the timing of the dedication and the conference to acknowledge the direct link between historical research and newspapers which chronicle events and give us insights into the perceptions, biases and values of the time.
We invite you to join us at our dedication event. It will be the first time the public will have the chance to see the collection. This will be an evening that offers great food and wine, outstanding silent auction items, guest speakers who have been responsible for bringing local news to the city through their columns and reporting, and 87 years of history as told through the pages of our local papers.
Price includes food catered by Primal Alchemy, a nice collection of wines, and a chance to meet and mingle with journalists and columnists who have observed and chronicled our city's events, changes, and growth over the years.
Call – 562.424.2220 – to reserve your ticket or buy now* with Google Checkout!



* Online purchasers will not receive tickets in the mail. Their names will be listed at Check-In as pre-paid.