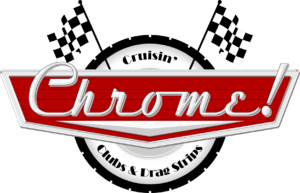 Exhibition Open
July 14th, 2018 – March 7th, 2019
Featuring car club memorabilia, vintage photos, drive-in theaters and restaurants, Lions Drag Strip and more!
The Historical Society of Long Beach (HSLB) invites the public to the opening of its newest exhibit – Chrome! Cruisin', Car Clubs and Drag Strips– celebrating Southern California's mid-century car culture.
Exhibition Hours beginning July 17th: Tuesday, Wednesday, Friday 1-5 pm, Thursday 1-7 pm & Saturday 11-5 pm.
As part of the nine-month exhibit, additional related programing will be offered. The current schedule includes:
 "The Autoette: As Modern as Today Long Beach and the Electric Car" by Larry Fisher,
Executive Director of NHRA Motorsports Museum
Saturday, December 8, 2018, 1pm – 3pm
4260 Atlantic Ave, $22 for members/$25 for non-members
Purchase tickets here
 "Long Beachland" with Charles Phoenix
Saturday January 12, 2019 2pm-4pm
LB Petroleum Club, 3636 Linden Ave
$35 members/$45 non-members
Purchase tickets here
"Legends of Lions"
4260 Atlantic Ave.
Saturday, February 2, 2019, 1pm – 3pm
$22 for members/for $25 non-members
Science of Speed by J. David Wilson
President Toyota Racing Development
Saturday, February 23, 2019 1 pm – 3 pm
4260 Atlantic Ave.
$30 for members/ $35 for non-members
Exhibit closing "Cruisin' with Craig and Cathy"
aka, Craig Hendricks & Lucy Daggett
Thursday, March 7, 2019, 6:30pm – 8pm
4260 Atlantic Ave.
$35 for members/$40 for non-members
Thank you to our sponsors:
Port of Long Beach
The Hand On Real Estate Team
Bess Hodges Foundation
Performance Plus Tire
Price Automobilia
About Car Culture in Southern California
Teens cruising in their beloved cars emerged as a fixture of Southern California culture from the 1930s through the 1960s, when the phenomenon reached the height of its popularity. Celebrated in film and song, cruising in customize rides and hot rods served up a youthful counterpoint to the era of the family Sunday drive. Fueled by high school youth, a growing number of active local car clubs, drive-in restaurants, theaters, hang outs, and the lure of the iconic Lion's Drag Strip, Long Beach became a focal point amidst this cultural movement. Long Beach clubs like the Vulcans, Sultans, Merroders, Long Beach Cavaliers and Long Beach Renegades, Cut Outs, Rollin' Stones, Road Kings, Carbonides and Furys, the MG Club, Studebaker Club, Jesters, Torks, and many others fanned the cultural flames at high school parking lots, drive-ins and drag strips, and ruled the streets of their Long Beach neighborhoods and commercial corridors.
Sharing Day Event, 02/03/2018
On February 3rd, 2018 we hosted a "Sharing Day" at the HSLB Gallery in Bixby Knolls. We invited the public to share any car culture and drive-in memorabilia with us. The gallery was busy with donors the entire day, and we gathered some great items and stories for the exhibition. The HSLB is still looking for 1940s – 1970s items, from Long Beach and environs, for possible inclusion in the exhibition. There is still time to donate items, lend items, or let us digitize your collection while you wait!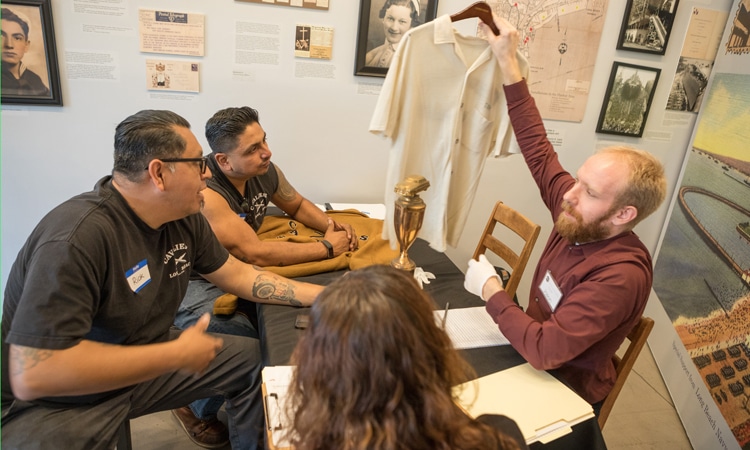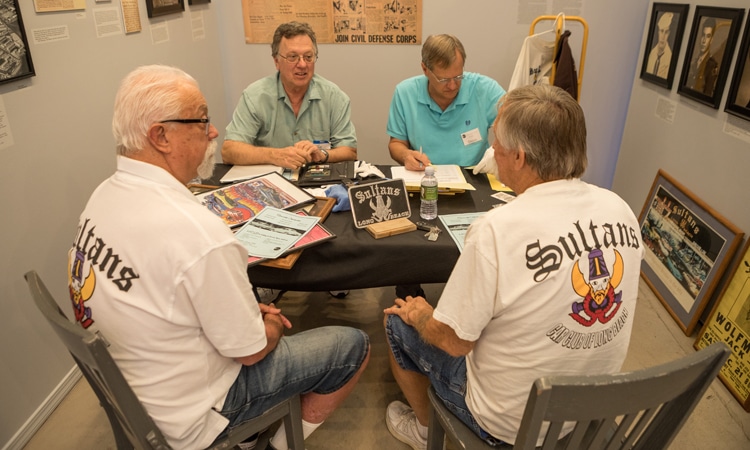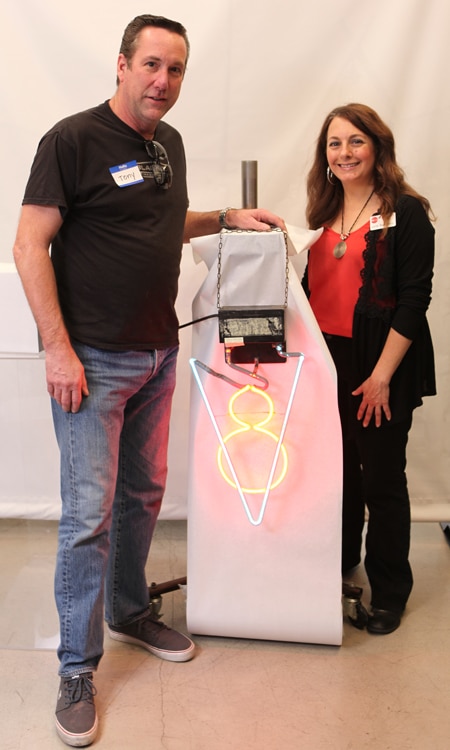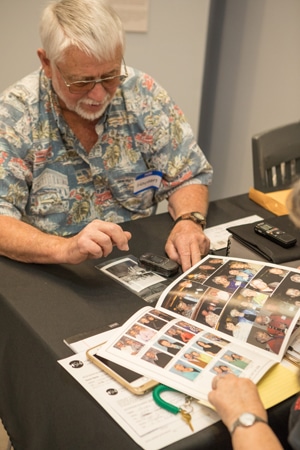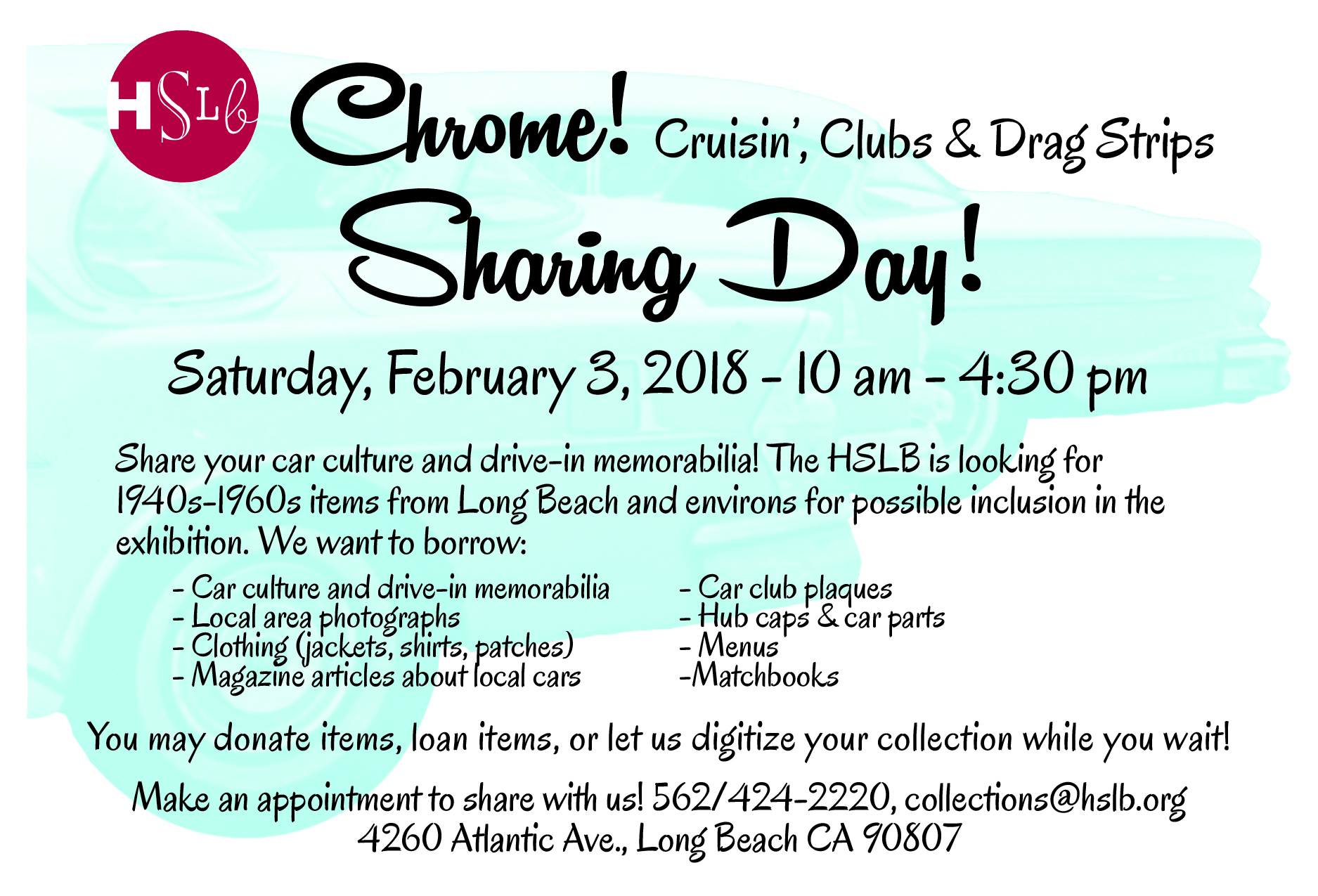 ---