July 14th, 2018 – March 7th, 2019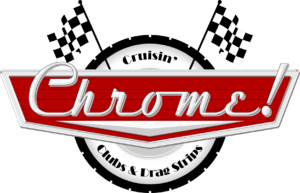 Featuring car club memorabilia, vintage photos, drive-in theaters and restaurants, Lions Drag Strip and more!
The Historical Society of Long Beach (HSLB) invites the public to the opening of its newest exhibit – Chrome! Cruisin', Car Clubs and Drag Strips– celebrating Southern California's mid-century car culture.
Exhibition Hours beginning July 17th: Tuesday, Wednesday, Friday 1-5 pm, Thursday 1-7 pm & Saturday 11-5 pm.
About Car Culture in Southern California
Teens cruising in their beloved cars emerged as a fixture of Southern California culture from the 1930s through the 1960s, when the phenomenon reached the height of its popularity. Celebrated in film and song, cruising in customize rides and hot rods served up a youthful counterpoint to the era of the family Sunday drive. Fueled by high school youth, a growing number of active local car clubs, drive-in restaurants, theaters, hang outs, and the lure of the iconic Lion's Drag Strip, Long Beach became a focal point amidst this cultural movement. Long Beach clubs like the Vulcans, Sultans, Merroders, Long Beach Cavaliers and Long Beach Renegades, Cut Outs, Rollin' Stones, Road Kings, Carbonides and Furys, the MG Club, Studebaker Club, Jesters, Torks, and many others fanned the cultural flames at high school parking lots, drive-ins and drag strips, and ruled the streets of their Long Beach neighborhoods and commercial corridors.
As part of the nine-month exhibit, additional related programing will be offered. The current schedule includes: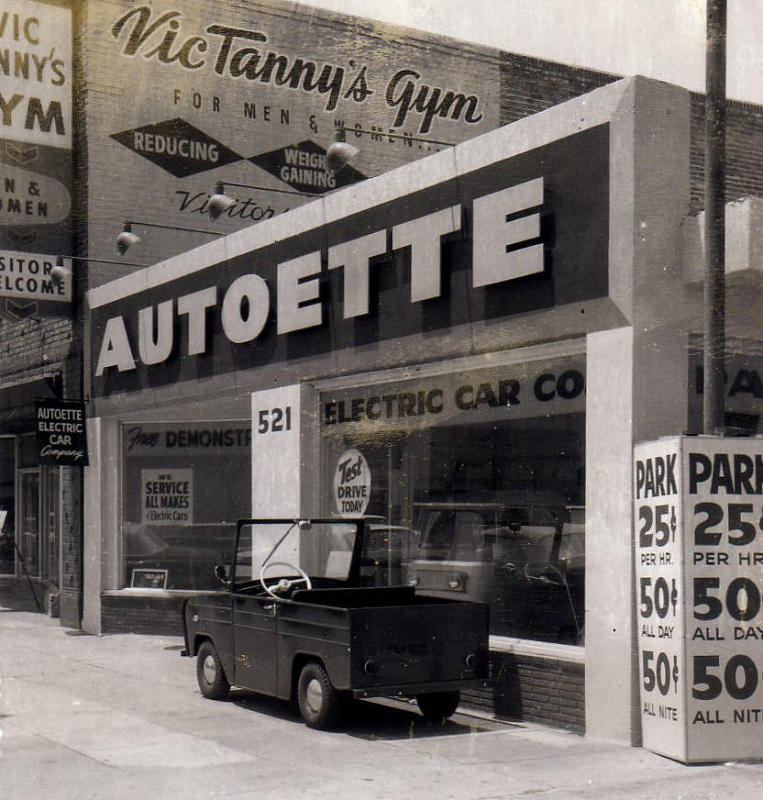 "The Autoette: As Modern as Today Long Beach and the Electric Car" by Larry Fisher,

Executive Director of NHRA Motorsports Museum
Saturday, December 8, 2018, 1pm – 3pm
4260 Atlantic Ave, $22 for members/$25 for non-members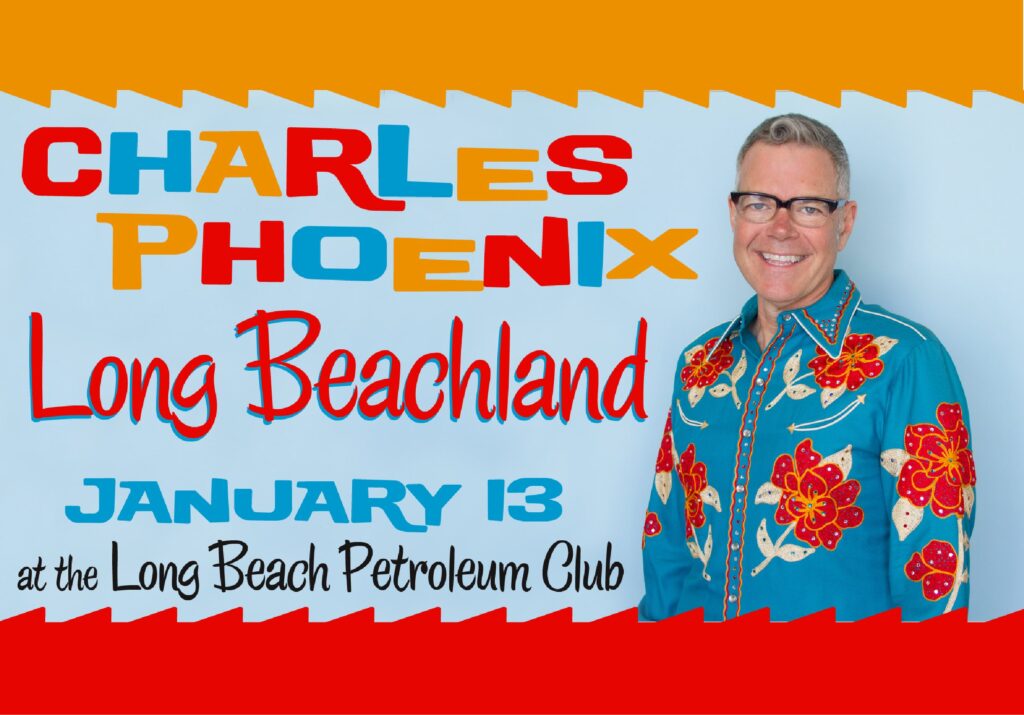 "Long Beachland" with Charles Phoenix

Saturday January 12, 2019 2pm-4pm
LB Petroleum Club, 3636 Linden Ave
$35 members/$45 non-members


Presented by the Historical Society of Long Beach … Be prepared for your local pride to SWELL when Ambassador of Americana, Charles Phoenix, sweeps us away on a then and now time travel slide show adventure exploring Long Beach's landmarks and lore.
 
With his gracious sense of humor, unbridled enthusiasm, and keen eye for oddball detail, Charles reveals his guide to undiscovered and iconic local landmarks, and the very best of his found vintage slides taken in Long Beach in the 50s and 60s.
 
Experience the Pike Amusements, local oddities, legendary attractions, Art Deco and mid-century mod architecture, vintage neon signs, classic mom and pop businesses, nifty neighborhoods, the glory of googie, story of Miss Universe, and much more all in glorious Kodachrome color!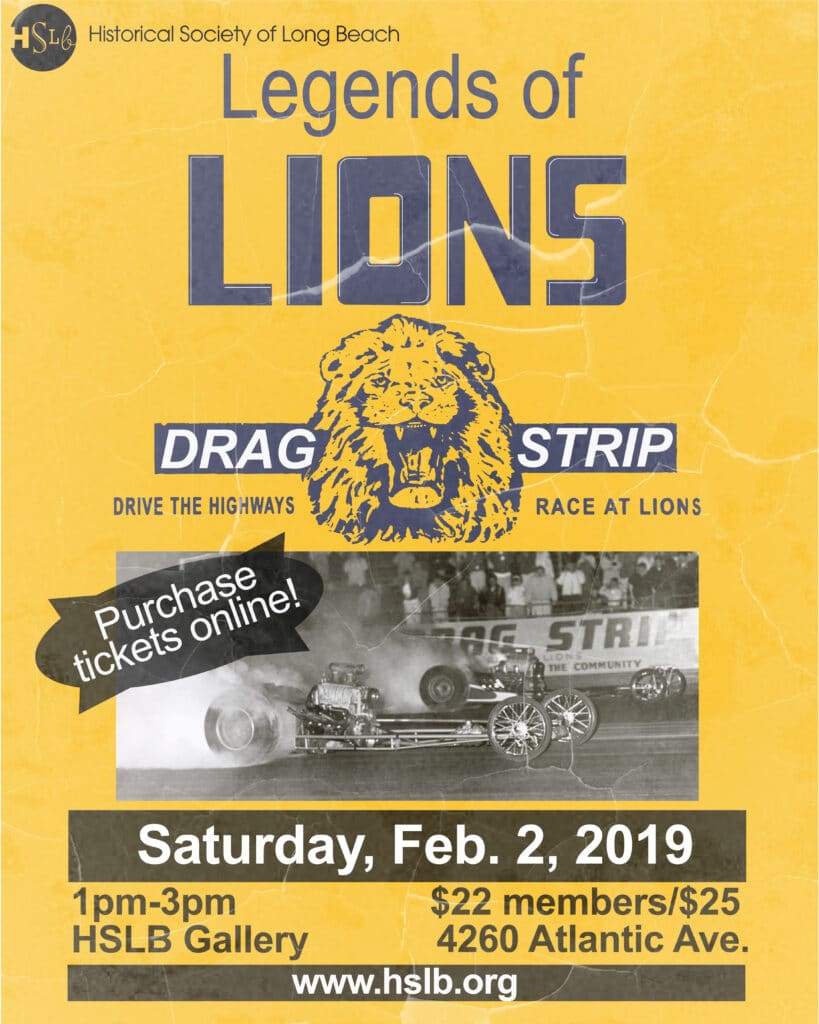 "Legends of Lions"

Saturday, February 2, 2019, 1pm – 3pm
4260 Atlantic Ave. $22 members/$25 non-members

A Celebrations of the Legends who raced at Lions Drag Strip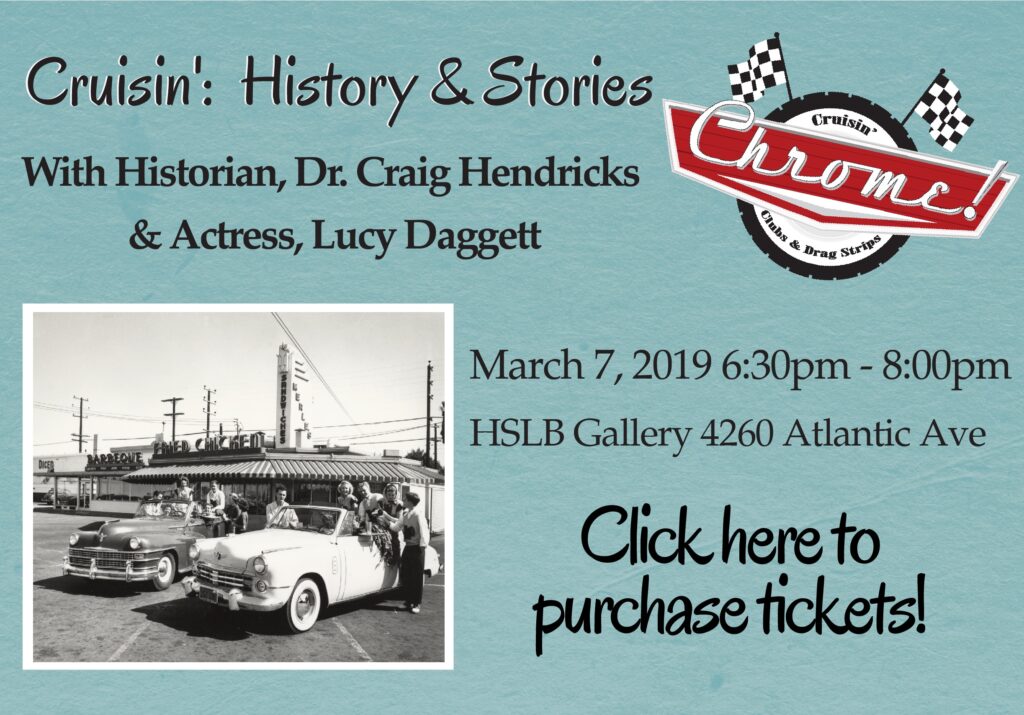 Exhibit Closing — "Cruisin': History & Stories"
With historian, Craig Hendricks & actress, Lucy Daggett

Thursday, March 7, 2019, 6:30pm – 8pm
4260 Atlantic Ave.
$35 for members/$40 for non-members
CLICK HERE to view a video of the event
The Historical Society of Long Beach presents Cruisin': History and Stories featuring historian Dr. Craig Hendricks and actress Lucy Daggett. The event is a historical account of the automobile in Long Beach from post WWII to present day with narrative scenes acted by Lucy Daggett.
Thank you to our sponsors:
Port of Long Beach
The Hands On Real Estate Team
Bess Hodges Foundation
Performance Plus Tire
Price Automobilia
Exhibition Highlights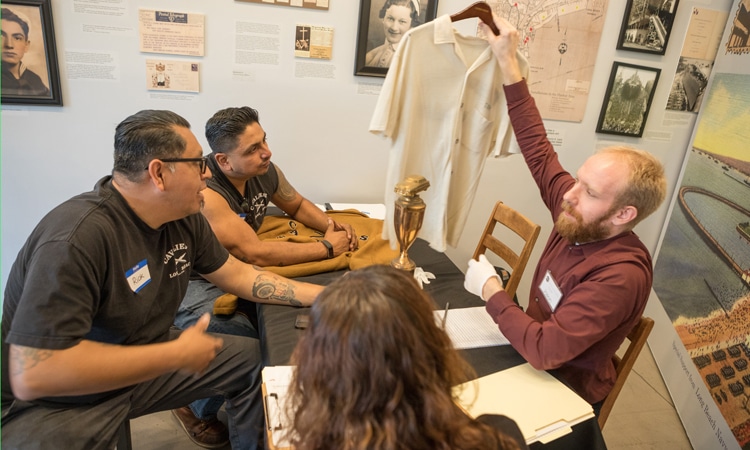 Rick and Felipé of the Cavaliers Car Club share their club memorabilia and stories with two HSLB volunteers.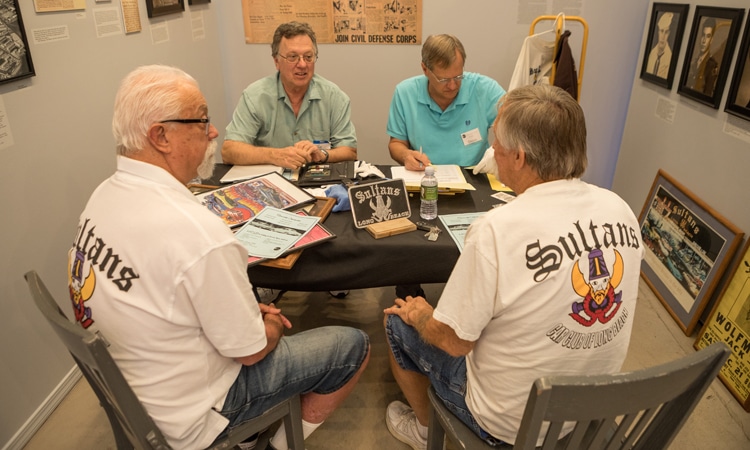 Andy and Ken from the Sultans Car Club share their treasures with an HSLB board member and a volunteer.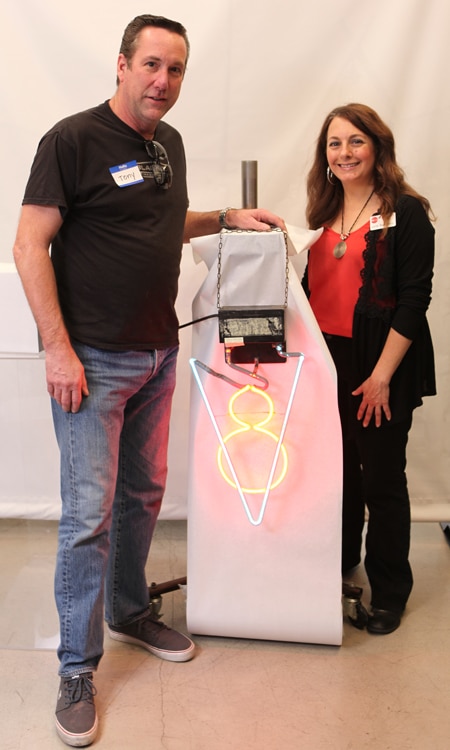 Tony of the Mercifuls shares his neon V8 sign with HSLB Executive Director Julie Bartolotto.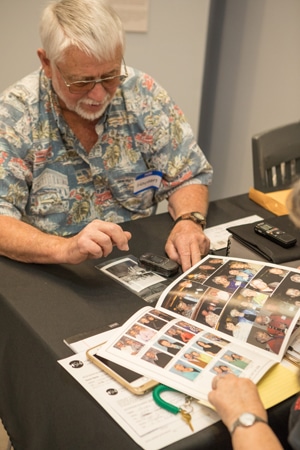 Hayden Long of the Cavaliers shares photos of club members.
Sharing Day Event, 02/03/2018
On February 3rd, 2018 we hosted a "Sharing Day" at the HSLB Gallery in Bixby Knolls. We invited the public to share any car culture and drive-in memorabilia with us. The gallery was busy with donors the entire day, and we gathered some great items and stories for the exhibition. The HSLB is still looking for 1940s – 1970s items, from Long Beach and environs, for possible inclusion in the exhibition. There is still time to donate items, lend items, or let us digitize your collection while you wait!