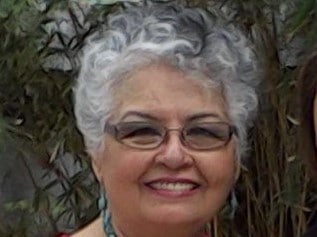 Served on 8 Commissions for the City of Long Beach, Latino Advisory Committee to the Long Beach Police Department, League of United Latin American Citizen, and Hispanic Advisory Board to Los Angeles County Supervisor
By Niki Tennant
Gladys Quintana Gutierrez was born in Brooklyn, New York, during World War II. Her father was in the Army and often gone. Her mother raised Gladys and her sister by herself during most of those years. Gladys remembers the neighborhood women working together to raise all of the neighborhood children, keeping them safe and out of trouble especially during the war years. She remembers her mom let them have hot cocoa parties with a light covered by a blanket so they wouldn't be afraid of the nighttime sirens of the big city.
Gladys was married and divorced with one son. She remembers traveling to China and completing a five-week work assignment for McDonnell Douglas Aircraft, and planning on vacationing in Beijing and visiting other parts of China in June of 1989. When she arrived in Beijing, martial law had just been declared and they were told that thousands of students had stormed Tiananmen Square. Communications and travel were frozen. She was unable to reach the American Consulate, and they were confined to their hotel. During a day of calm, a diplomatic friend took her on a tour of the city, and she said "you could witness the results of death in the streets and the horror done by the soldiers." This experience taught her to live each day as if it is your last.
Gladys lived in New York during her formative years and lived the major portion of her life in Long Beach, California. She had several interesting jobs working for McDonnell Douglas Aircraft, positions both domestic and international. Over thirty years, she completed thousands of hours of volunteer work, along with her career. Her volunteer work falls into two categories for the City and the Latino/Hispanic community.
Her volunteer activities include: the Parks and Recreation Commission from 1991 to 1999, the Long Beach Human Relations Commission and the Cultural Heritage Commission, the Mayor's Blue Ribbon Task Force on Restructuring City Government, Blue Ribbon Mayor's Task Force on Serving a Changing Population in 2000, Citizens Committee on City Management, Latino Advisory Committee to the Long Beach Police Department, League of United Latin American Citizens, Hispanic Advisory Board to Los Angeles County Supervisor Ed Edelman, Substance Abuse Regional Representative for a Hispanic Umbrella Group, and PAC Fundraiser Hispanic Coalition.
Gladys is an avid traveler having travelled throughout most of the world. She is a very strong community activist and used her bicultural and bilingual assets to help others. She still resides in Long Beach and can be found at her local Senior Center at Houghton Park.
Julie Bartolotto, Project Director