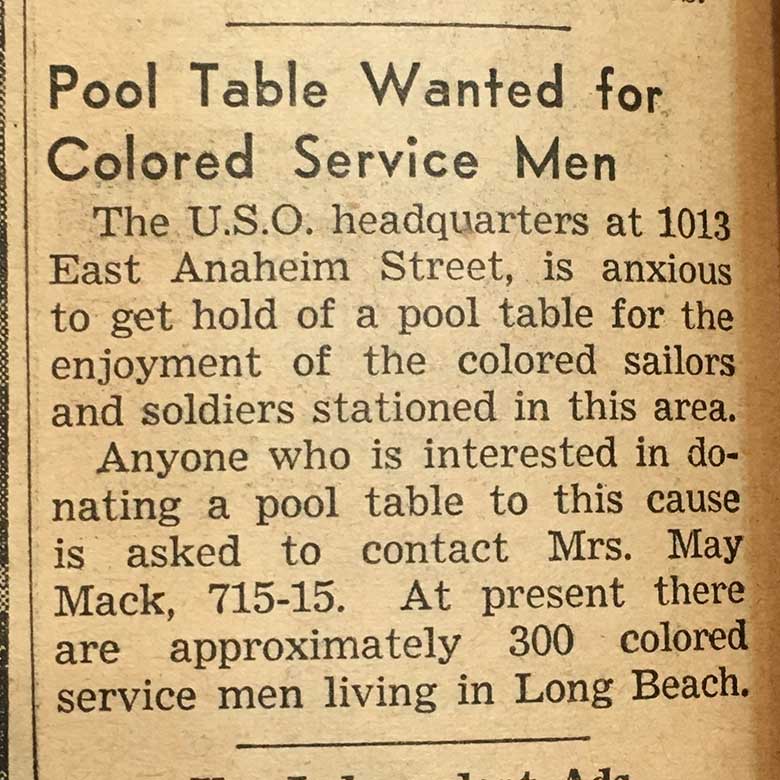 Advocate for military personnel and their families , a civil rights pioneer and an entrepreneur.
By Karen Harper
We want all of you to know about Mae Powell Mack. She was born in 1901 in Pensacola, Florida, the Jim Crow deep south, where opportunities for young black women were few. Despite these challenges, she earned an MBA at Florida A&M, (the historic African American University in Tallahassee).
She married George W. Mack and had two sons, Victor and George Jr, before leaving Florida. Part of the Great Migration of African Americans out of the South (1910-1970), in 1935, the family moved to Long Beach. In 1936, daughter, Alta, was born. All three children graduated from college and graduate school.
After the attack on Pearl Harbor on December 7th, 1941 George joined the U.S. Navy and became a career serviceman and Chief Navy Chef. In 1941, shortly before the U.S. entered World War II, President Roosevelt called for a coalition of service organizations to provide recreation and a home away from home for military personnel and their families.
When Mae saw injustice and racism, she devised solutions.  African Americans were not welcome at the local USO, so Mae organized a "Negro USO Drop in Center" at 1013 Anaheim St. The local USO Council provided $25 month for rent, but Mae had to find furnishings from the community. Sailors from the Roosevelt Naval Base on Terminal Island and 200 men from the 76th Chemical Division protecting Douglas Aircraft now had a place to go. Soon over 1000 African Americans were training at the expanded Roosevelt Base. The local USO Council agreed to expansion and increased the budget to $125 per month. Some of those funds were used to hire a full-time director. The USO also had a team of volunteer junior hostesses.
Mae wrote a letter in 1944, to the LA "Negro" USO director. Mae explained that that the Long Beach USO had only 15 committed hostesses. They staffed the drop-in center, had dances at least twice a month, attended regular dances with the "Ferrying Command," and attended ship's parties at Roosevelt Base without much warning. They were over committed as it was and could not take on traveling to LA. Their focus was local.
The response from Los Angeles was not generous. Mae replied:
"If Miss Mathews wanted more help from Long Beach, perhaps she could come on down and run a recruiting and training session here, especially since her junior hostesses did not help at the Roosevelt Base when promised!"
Mae Mack was always an advocate for her community, a civil rights pioneer, and an entrepreneur. She was a founding member of the local National Council of Negro Women and the Long Beach National Association for the Advancement of Colored People. She organized programs for the poor and created neighborhood safety projects.
Then and now, systemic racism in the banking system has made it more difficult for African Americans to obtaining loans at fair interest rates. Mae saw the need and the solution. She established the Atlantic Street Bank and Credit Union to provide a friendly neighborhood banking choice to serve African Americans. 
Mae's daughter Alta Cooke became the first African American principal of a high school in the Long Beach Unified School District system leading Jordan High School from 1987-1994.
Mae Mack received the Humanitarian Award from the City of Long Beach in 1975!
Julie Bartolotto, Project Director