By Kaye Briegel
The oil islands are a familiar part of the local shoreline. They've been there more than fifty years. This series of images shows the construction of Island Grissom in 1966. Property owners in the neighborhoods along the beach and city officials knew there was oil in the area long before that. But they couldn't agree on who owned it, or how to extract it.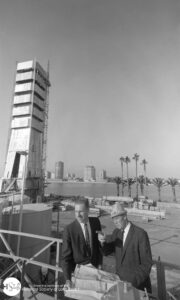 In 1911, California granted the local tidelands in trust to Long Beach for harbor development. In 1932, when oil was discovered under the harbor, the state and city both claimed that "trust" gave them ownership. After years of arguing, legislating and suing, they compromised; the City of Long Beach controls the drilling and divides the revenue with the state.
Oil production still couldn't begin along the shoreline. After oil was discovered on Signal Hill, and locals saw the eyesore that drilling rigs, storage tanks and toxic chemicals created there, they wanted to make sure the same thing didn't happen along the beach. In 1927, residents in shoreline neighborhoods and tourism boosters convinced the Long Beach City Council to prohibit oil drilling along the shoreline.
Finally, in the 1960s, there was another compromise. The city built off-shore platforms to keep the oil drilling equipment off the beaches and out of neighborhoods. The platforms facilitated producing oil under the ocean as well as under adjacent areas. The city landscaped the platforms, and built structures to hide the oil drilling and producing equipment. The beaches were saved from toxic pollution. And in 1967, when an accident killed a group of astronauts, the oil platform closest to downtown Long Beach was named for Mercury astronaut Gus Grissom.
The "Oil Islands" have become one of Long Beach's familiar features and now observers claim they are the only decorated oil drilling and production platforms in the United States.