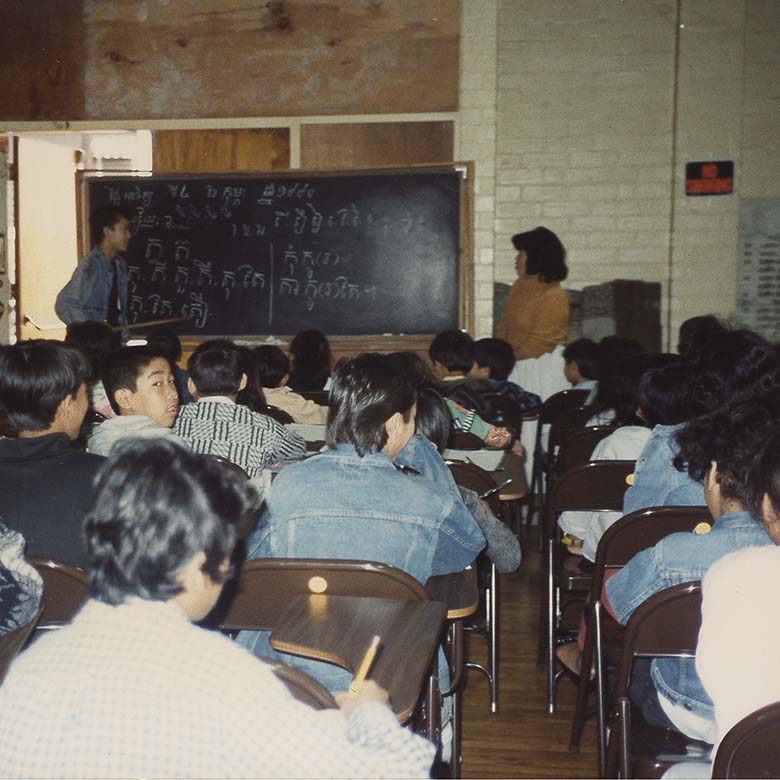 "Life is a whirlwind of experiences. What we choose to learn from those experiences are often the biggest decisions we make in our lifetime."
By Sara Pol-Lim
Sara Pol-Lim was born on August 21, 1966 in Phnom Penh, Cambodia. She was the second child and only girl among five children. On April 17, 1975, her family was among the millions of people to be forced out of their home into labor camps in the countryside. Cambodia was on lockdown. Cities became ghost towns. Government offices, schools, hospitals, and businesses were closed. Money was no longer a commodity to survive. Communication was shut down and families had no idea where each other was. Each province was locked and sealed off to the outside world by the Khmer Rouge soldiers who guarded the borders with guns. Sara's oldest brother was with his maternal grandmother, uncles, and aunts at the time. They escaped into the open water on a naval ship.
Over three years of terror and forced manual labor, millions of people were killed or died due to food deprivation. Sara's father and three younger brothers were among the victims. The traumatic ordeal took away human dignities, loved ones, hopes, and dreams. Yet, Sara and her mother found their way to reunite with older brother, grandmother, aunts, and uncles in California in 1983.
The reunion was bittersweet. Eight years of separation was a long time, and many tears were shed. Sara was overwhelmed and confused. She spoke no English and her brother spoke no Khmer. He was ten years old and had to assimilate quickly into American culture at school. Sara and her mother were sheltered by her aunt and uncle in Gardena, CA.
When her family brought her to the local Cambodian stores in Long Beach, Sara's eyes lit up in amazement. She was excited to see the familiarity of food and culture in Long Beach. She and her grandmother commuted weekly to the Buddhist temple and the local Cambodian markets in Long Beach. These were her favorite outings.
When it was time for Sara to find purpose in her work, she chose to work for UCC as program Manager in 1998 after spending two years in private sectors working in Human Resources and public sector working in the department of social services assisting low-income with emergency needs. Subsequently, she became the first Cambodian woman Executive Director of UCC in 2007. She served UCC from 2007 to 2015 where she earned numerous awards to include:
• "Woman of Distinction" Award from Assembly Member Patrick O'Donnell in 2015.
• Trail Blazer for Outstanding Leadership by 6th District Councilmember Dee Andrew 2014.
• Outstanding Leadership Award by the United States House of Representatives Congressman Alan Lowenthal 2014.
• 4th District Woman of the Year 2013 by Los Angeles County Supervisor Don Knabe.
• Woman of Distinction 2012 by the Honorable Roderick Wright of the 25th Senatorial District.
• Hands Across the District Medal from the Assembly Member Warren Furutani 2012
• Outstanding Cambodian Leader given by Cambodian Town 2012.
• Selected as "Grand Marshall of the Cambodian New Year Parade 2011.
• The Gene Lentzner's "Human Relations" Award 2010 given by the California Conference for Equality and Justice, Long Beach.
• Selected as "Grand Marshall" of the Long Beach Martin Luther King Parade 2010.
• Woman Who Makes a Difference by the Long Beach NAACP 2009.
• Community Leader Award by Mentoring A Touch from Above in 2009.
• Extraordinary Woman Award by Voter Education & Research Action and presenting by Assemblyman Mervyn M. Dymally in 2008.
More importantly, Sara moved to Long Beach in 2012 to be closer to work and school for her two sons. She continued searching for ways to improve the lives of others who experienced hardship and trauma like she did. In 2015, she was admitted into a doctoral program at Cal State University, Long Beach. By May of 2018, Sara earned a Doctoral Degree in Educational Leadership, which she used to inspire the next generation to invest in education. In giving back to her community, Sara hopes to restore a sense of humanity that was robbed in her youth.
Her most recent position as Regional Program Manager for the State of California 2020 census enabled her to encourage hard-to-count ethnic groups like members of the Cambodian community to participate. Sara has used her traumatic experience to inspire people every single day.
Julie Bartolotto, Project Director