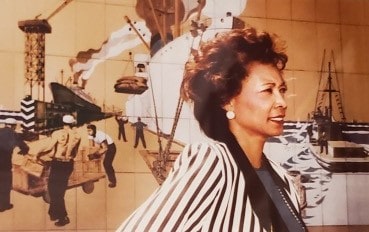 Shattering Glass Ceilings
Wilma (Calhoun) Powell arrived in Long Beach in 1967 with her seventeen-month-old son, seeking a new life. Older brother Weldon Calhoun encouraged her to leave Texas and join her sister Zelma Hawkins in California. After a career at the Port of Long Beach, leadership in international trade on the world stage, significant impact on women's service in the military, mentoring women, and years of volunteer work on domestic violence, Wilma acknowledged that her passion for women's safety grew from her own experience escaping an abusive husband.
Wilma (Calhoun) Powell was born in Waco, Texas in the 1940s. She attended Prairie View A & M, a historic Black college in Texas where she completed three years in elementary education. Teaching was one of the few professional career options for women at the time. Before completing her degree, she married and had her first child. Wilma never returned to Texas, and her parents finalized the divorce on her behalf.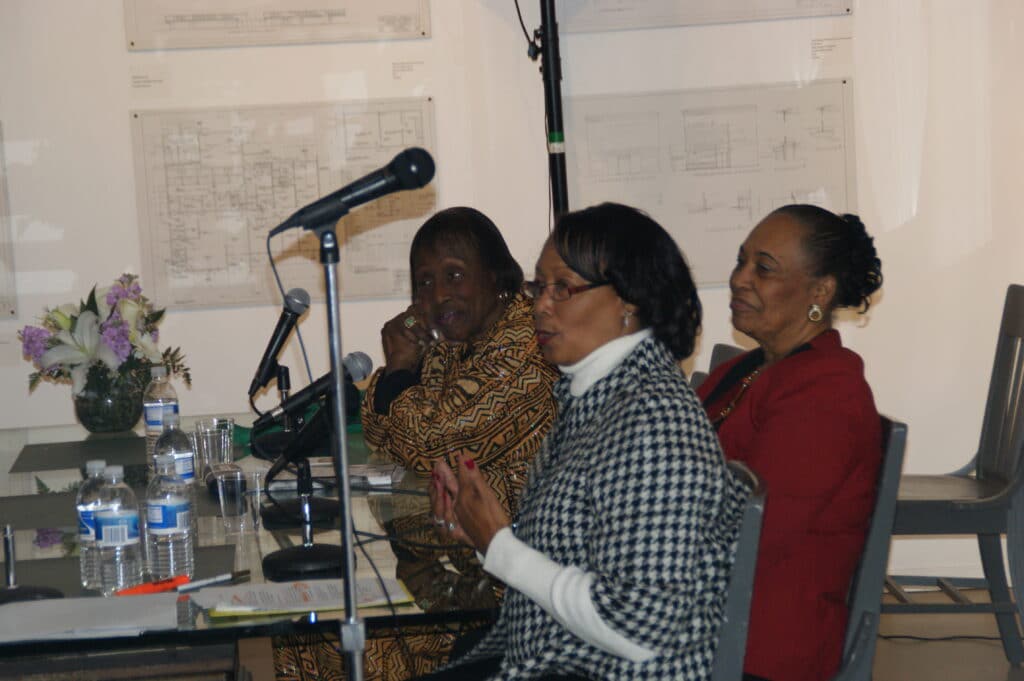 Beginning anew, Wilma worked for a short time at the YWCA. Still, in her first year in Long Beach, she began her stunning career path with the Port of Long Beach. She was hired as a secretary in what she describes as "an all-male world." A few years later in 1972, Wilma married a loving and supportive man, LeVon Powell, a Long Beach Firefighter. Together, they raised sons Kevin and LeJon. She worked her way through college at the University of Redlands, earning a Bachelor of Arts degree in management. LeVon took care of the kids so that she could do that. She recounted a camping trip where she brought her typewriter so that she could finish a paper for a college course.
I went back to school because I wanted to take all the obstacles out of the way so that I could be promoted.
Over the course of her career, she worked in the maintenance, engineering, operations, real estate, properties, public relations, and trade and maritime services divisions at the Port. She worked her way up serving as Public Relations Assistant, Public Relations Specialist, and Public Relations Manager before becoming the Chief Wharfinger (operations manager) in 1988. Ever a mentor, Harbor Commissioner Louise DuVall championed Wilma's promotion to Chief Wharfinger despite concerns by male colleagues. For eight years in that role, Wilma enforced Port rules, regulations, tariffs, ensured lease compliance, coordinated berthing of over 6,000 vessels annually, directed the utilization of cargo spaces, tracked cargo movement, and oversaw day-to-day operations. In 1999, Wilma was promoted to the position of the Director of Trade and Maritime Services. Promoted again, despite the opinion in international trade that "a woman would never be recognized or accepted in Asia and or Europe" in that role. Wilma says, "So NOT true!"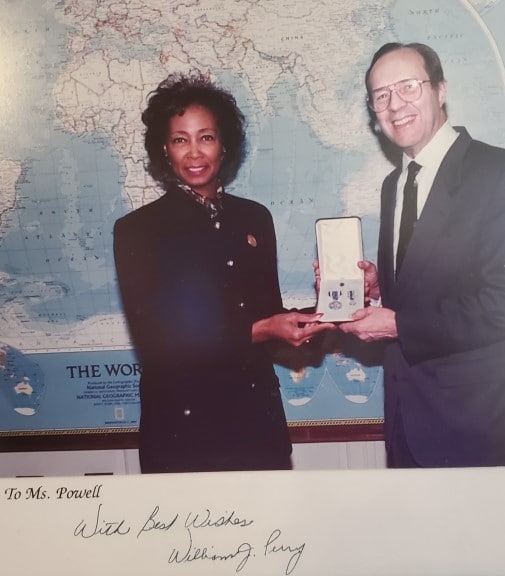 As Director of Trade and Maritime Services, Wilma was responsible for marketing and customer service for tenants at the Port of Long Beach. She monitored international market trends and serviced the Port's customers such as Target and Home Depot. She traveled to Asia and Europe with the Board of Harbor Commissioners and the Port's executive team to meet with international customers. Wilma was the first woman and the first woman of color to hold the positions of Chief Wharfinger and the Director of Trade and Maritime Services in the history of the Port of Long Beach. Wilma was well received and respected by the Port's international customers and throughout the United States.
Through Wilma's leadership at the Port, she worked with the brass at United States Coast Guard. In 1992, on the recommendation of the Coast Guard, the Secretary of Defense appointed Wilma to the United States Defense Advisory Committee on Women in the Services (DACOWITS). It was established in 1951 to advise the Secretary of Defense on policies related to women in Military Service. She was recruited to DACOWITS as part of the effort to expand opportunities for women on Navy vessels, combat aircraft and ground units following the 1991 lifting of the ban on women in combat roles. Committee members had 3-star general protocol status which was a whole new world for Wilma. Through this appointment, she interacted with the highest-ranking generals. High-level officials would call her, and she had no idea who they were. On one occasion, Wilma graciously offered to drive them around in her car during a meeting in Palm Springs. Instead, stretch limousines showed up to take them to dinner; she now laughs at her naivety.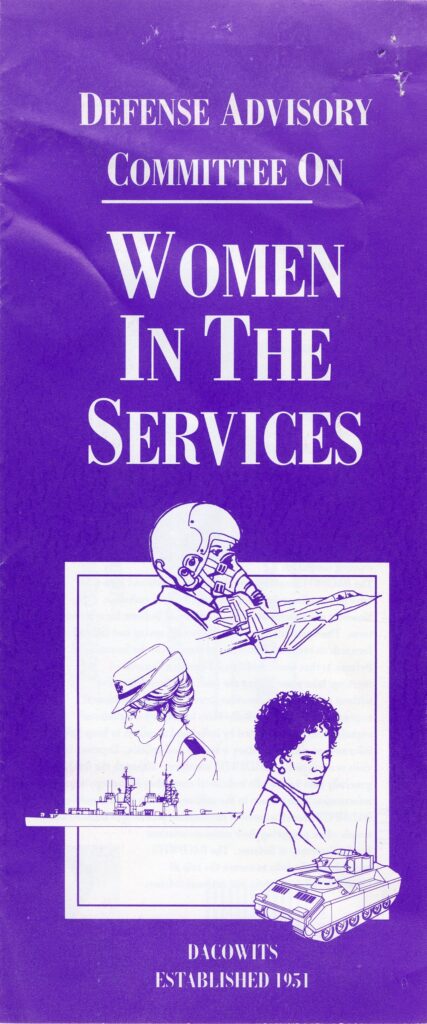 The committee of 33 were flown around the world on exclusive Military jets often piloted by women to hold their meetings. Even though first-class accommodations included meals served on fine china, there was no time for lounging around. Instead, committee members efficiently worked on the airplane meeting and writing reports.
DACOWITS work led to great adventures; but most important, Wilma took part in the vital work of improving the status of women in the U.S. Military. She told then Secretary of Defense William Perry that the Military may have these rules but, "It's a long way from your office down to the trenches where the women work." She challenged the civilian head of the Military to think about real enforcement of policies. Wilma reflects, "never in my wildest dreams did I think this would happen, that I would be meeting with top Pentagon officials."
Wilma's appointment to DACOWITS followed the infamous 35th Annual Tailhook Association Symposium in 1991 attended by U.S. Navy and U.S. Marine Corp aviation officers. At the conference, 83 women and 7 men were sexually assaulted by other service members. DACOWITS oversaw part of the investigation. They visited San Diego during the scandal and held closed door meetings with women who made complaints.
Committee members did a lot of work. They went on 14-day trips with several stops at Military installations all over the world. During Wilma's tenure she heard testimony from thousands of Service women with complaints of mistreatment. Then while flying to the next installation, committee members wrote reports of what they learned.
Where ever she was, Wilma advanced to leadership positions. In 1992, she was a member of the subcommittee on Forces Utilization, and the next year she chaired that subcommittee. By 1994, she was chair of DACOWITS. Wilma said "When I was chair it was the most diverse committee. Most were women, some were professors, some were in Military service, others were policy and management leaders." Under her leadership DACOWITS goals expanded to ensure women equitable leadership and career development training, promote understanding of cultural differences, prevent and eliminate sexual harassment, implement Service-wide childcare, improve health services in the armed forces, and ensure that all Military women have full access to safety equipment. Under Wilma's leadership, the first recommendation made by DACOWITS in the 1994 Spring Conference implemented sexual harassment guidelines and a zero-tolerance policy. They called on the Military to "evaluate enforcement process and provide specialized training for the chain of command and those who process complaints." Vital was the recommendation of a system for continuous improvement.
Following her service, the U.S. Coast Guard awarded Wilma with a 1995 Distinguished Service Medal.

"Mrs. Powell completed multiple Forces Utilization and Career Opportunity initiatives through her tireless efforts to identify and remove artificial or institutional barriers to integrating women in the Armed Services… Mrs. Powell shifted the Committee's focus to emphasize Quality of Life issues… vigorously pursed adequate, affordable, and accredited child care for Service members, and was a strong proponent for responsive and available health care for women in the Services. Mrs. Powell quickly recognized that diversity and cultural sensitivity are instrumental to effective mission accomplishment and Service readiness, and made a continuous effort to eliminate any remnants of racism, gender discrimination, and sexual harassment." – from the U.S. Coast Guard Distinguished Service Medal statement
During Wilma's work with DACOWITS, the Port was very supportive. She took the opportunity to empower and mentor two capable women of color, Marva Stewart and Yvonne Allen to ensure that Port operations continued. Marva and Yvonne were both promoted to Chief Wharfinger during Wilma's tenure as Director of Trade and Maritime Services.
I don't know how I got so fortunate to serve on the Defense Advisory Committee on Women in the Services. Serving on DACOWITS was one of the most memorable and precious experiences of my life. It was a lot of work—a lot of important work.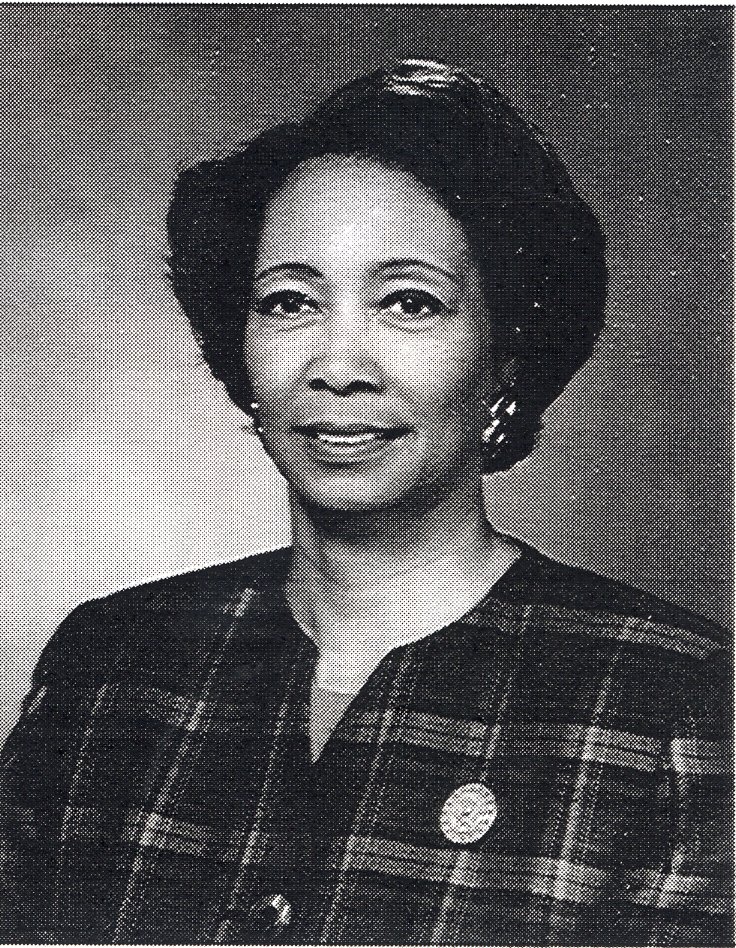 In 1994, Wilma received many honors: The Outstanding Public Services Award by the Secretary of Defense, the Outstanding Woman of the Year by the American Business Woman's Association, and Woman of the Year by California's Legislative Assembly.
She retired from the Port of Long Beach in June of 2004. After her retirement, Wilma's life of service continued. She is an advocate and supporter for the Women Shelter of Long Beach. She served as President of Leadership Long Beach in 1999/2000 and joined St. Mary Medical Center Board of Trustees in 2020 during the pandemic.
Wilma is a member of St. Mark Baptist Church in Long Beach. She is on the church's Leadership Board, serves as acting Chair of the Board of Trustees, and is Past President of the women's ministry. As a survivor of domestic violence, she led a series of educational panel discussion on domestic violence for five years. They invited other churches and pastors to attend. They educated pastors, congregants, and boys and girls about domestic violence. One of the activities of the women's ministry is gathering and preparing Christmas gifts for women residing at the Women Shelter, even during the pandemic.
Wilma is eternally grateful to God, her parents Emanuel and Ora Calhoun, teachers, husband LeVon Powell, her sons Kevin and LeJon Powell (and grandchildren Sydney, Isaiah, Savannah), and men and women in her life who were role models and advocates. There were many who encouraged her upward mobility at the Port of Long Beach during her 36-year career including the Honorable Doris Topsy-Elvord, Louise DuVall, Eileen Lafferty, Lillie Mae Wesley, Minnie Douglas, and mentor Paul Brown (responsible for her promotion to Chief Wharfinger).
By Julie Bartolotto, Project Director
Edited Karen Harper, Community Historian