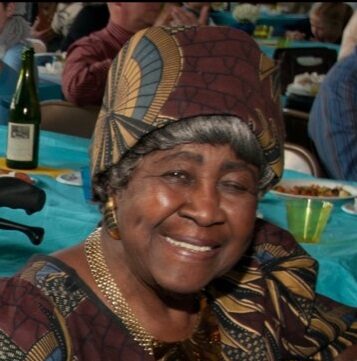 A Living Example
By Ann Burdette
The year was 1981, and Wini Carter was block captain for her neighborhood association in Houghton Park. She learned the Long Beach Police Department was recruiting for Reserve Police Officers and had requested block captains to canvass their areas. Wini went out to knock on doors to recruit, but didn't get a single taker. When she reported back, she asked if there was an age limit to apply. "No," was the answer, so at age 62, Wini applied and was accepted into the Long Beach Police Academy, graduating in July 1986 as a Reserve Police Officer and, at age 67 the oldest person to join the force.
" I encouraged people to be of service by doing it myself," she says. "
Wini's life has revolved around that precept, "Do it Yourself," and to this day, at age 101, she is still doing it. Wini sponsors the annual Wini Williams Carter Community Service Scholarship which is offered to a Poly High School student who best exemplifies service to the local community. Six students have started their college careers with $1,000 in their pocket thanks to Wini.
Born in 1919 and orphaned at age six along with her seven siblings, Wini realized that her ticket to a better life was education, and she has never ceased in her pursuit of learning, from completing her high school degree while cleaning houses in the midst of the Depression, through a career in Civil Service, to the Spanish courses she currently takes at the Ramona Park Senior Center. Wini is a true like-long seeker of knowledge.
World War II brought her the opportunity to work at the War Department in the newly-opened Pentagon where she worked in a segregated department, eventually working her way up the ladder from clerk-typist to secretary to a Colonel in the Army. Her job gave her a chance to travel and, facing her fear of flying, she worked in Hawaii and South Korea through the 1950s and 1960s. Her first husband, Eddie Williams, was a United Airlines employee who helped her overcome her fear of flying by dragging her all over the world. She learned to love the new places and experiences their life brought them, including the adoption of their darling daughter from Africa.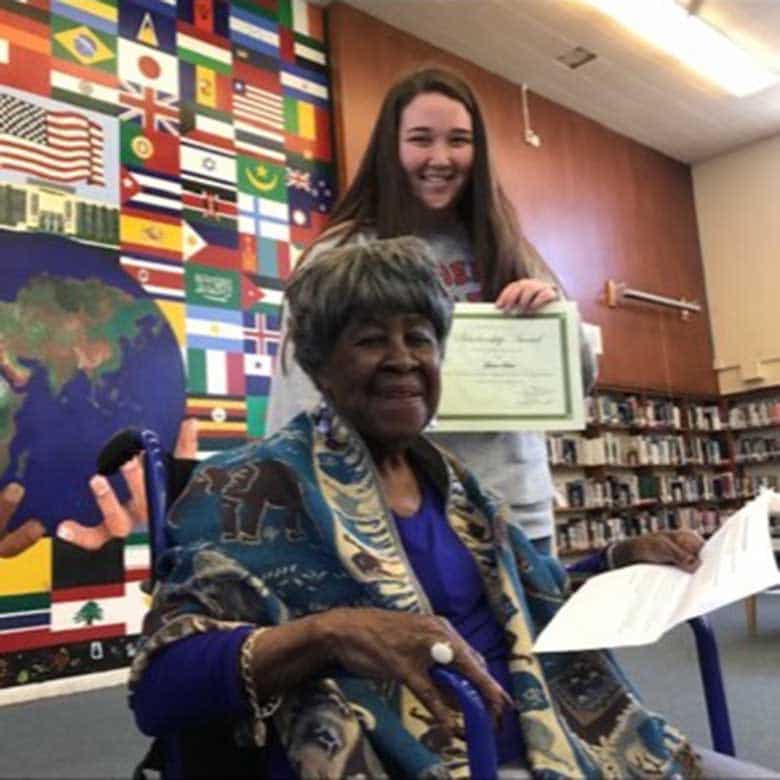 After Eddie's death in 1971, Wini sold their house in Hawaii and moved to North Long Beach, where she purchased two homes, one for herself and one for her niece and family. She married Clarence Carter and spent the '70s parenting, traveling and volunteering with the International Children's Choir of Long Beach, Meals-On-Wheels, and St. Mary's Hospital. Her volunteerism brought her to the infamous day in 1981 when she enrolled in the Long Beach Police Academy, resulting in five years of service as Reserve Police officer, followed by a return to full-time employment as a reporting secretary in the Police Department Records Division.
Shortly after she had received a community service award from the Long Beach City Council in 1989, her husband Clarence died of heart failure. "My bubble burst," she says, but her daughter encouraged her to return to school, and she did so, graduating from Cal State Dominguez Hills with a bachelor's degree in English and Communication at age 78. She returned to serve in the Police Department as a volunteer Senior Police Partner.
Not much grass grew under Wini. She traveled extensively in the early 2000s, from Australia, to South Africa and Ghana, to Europe, to New York, and returned home to find herself presented with the Josephine S. Gumbiner Foundation Award for Humanitarian Accomplishments in 2003. "Quite a surprise since helping others is something I do naturally with no regard required," she said. Additionally, she was awarded the African American Heritage Award from the NAACP in 2005. Wini is an active member of the NAACP, the Black Police Employees Organization, the National Council of Negro Women, and a founding member of the North Long Beach Project Area Committee. In 2014 she was appointed by the Mayor of Long Beach as a Commissioner for the Senior Citizens Advisory Commission and was chosen by her Eighth District Councilman as an officer on his Senior Advisory Committee. She continues to perform extraordinary community service, volunteering at the Ramona Park Senior Center, knitting sweaters for children, and prayer shawls for anyone who needs one. She can be found at St. Luke's Episcopal Church every month helping with the Manna Meals Program for unhoused residents.
"Acknowledging all the gifts of this life I have received, I am grateful to have seen so much of our world. I've been to North, South, East and West Africa; to Venezuela, Peru and Costa Rica. In Rio de Janeiro, I boarded the rickety tram to the top of Mt. Corcovado to stand at the feet of the stature of Christ the Redeemer, where his outstretched arms welcomed me. I've toughed the door of No Return in Ghana; I've seen Masai warriors in Kenya and met the Aboriginal people of Australia. I've visited Grant's Tomb, Lenin's Tomb, St. Peter's Tomb, Mao's Tomb, and Napoleon's Tomb. I've walked the Great Wall of China and the Stations of the Cross in Jerusalem. I thank God each day for allowing me to do what I do, and blessing me with the strength to do it. – from the "Decades of a Blessed Life," A Memoir, edited by Dr. E. Joseph Arias
We are grateful to Winifred Williams Carter for her lifetime of service to her country, her city, and her church. We are blessed to count her as one of Long Beach's treasured women.

Julie Bartolotto, Project Director