---
Long Beach Remembers Pearl Harbor Speaker Series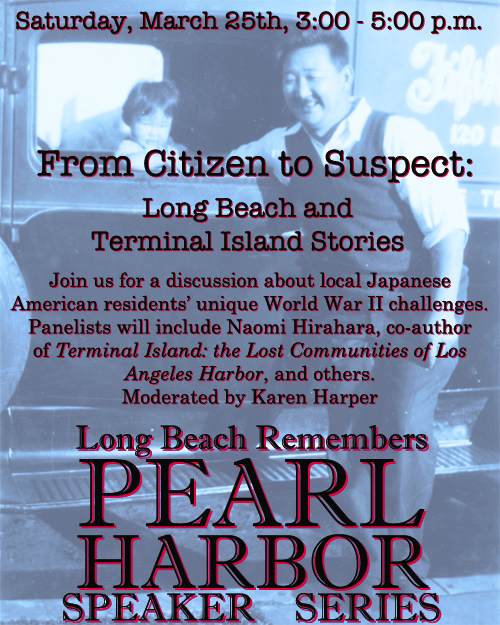 From Citizen to Suspect: Long Beach & Terminal Island Stories
Saturday, March 25, 2017, 3:00 p.m. to 5:00 p.m.
HSLB (Gallery), 4260 Atlantic Avenue, Long Beach, California 90807
As part of the Long Beach Remembers Pearl Harbor Speaker Series, From Citizen to Suspect: Long Beach & Terminal Island Stories will explore the experiences of Japanese Americans and immigrants living locally at the beginning of the Second World War. The panel discussion expands upon topics raised in the Historical Society of Long Beach's latest exhibition, Long Beach Remembers Pearl Harbor. The discussion will be moderated by Karen Harper who has collected the stories of Japanese residents in the Long Beach area for over 20 years. Nisei Aiko Takashita will share some of her childhood memories of December 7, 1941, Executive Order 9066 on February 19, 1942, as well as her imprisonment at Poston, Arizona. Another panelist, Naomi Hirahara, who co-authored the publication Terminal Island: the Lost Communities of Los Angeles Harbor, will share stories from her research. The program is free to the public and ADA accessible.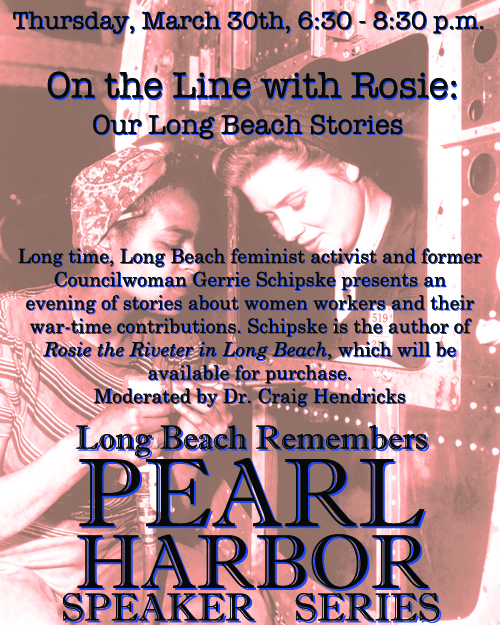 On the Line with Rosie: Our Long Beach Stories
Thursday, March 30, 2017, 6:30 p.m. to 8:30 p.m.
HSLB (Gallery), 4260 Atlantic Avenue, Long Beach, California 90807
Longtime Long Beach feminist activist and former councilwoman Hon. Gerrie Schipske presents an evening of stories about local women workers and their role in World War II. Schipske is the author of Rosie the Riveter in Long Beach, which will be available for purchase. The discussion will be moderated by retired professor of history at LBCC and CSULB, Dr. Craig Hendricks. The discussion expands upon an Historical Society of Long Beach exhibition, Long Beach Remembers Pearl Harbor. The program is free to the public and ADA accessible.
The Long Beach Remembers Pearl Harbor Speaker Series is Sponsored by: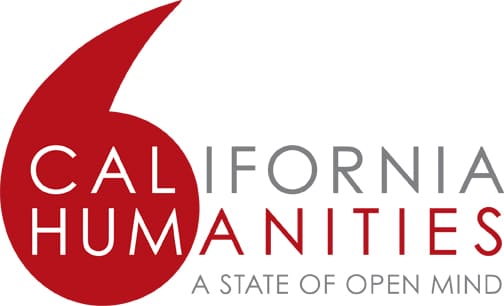 Long Beach Navy Memorial Heritage Association
Los Angeles County Supervisor Don Knabe
Evalyn M. Bauer Foundation
Molina Healthcare
This project was made possible with support from California Humanities, a non-profit partner of the National Endowment for the Humanities. Visit www.calhum.org.
---
Annual Cemetery Tour — Click Here for Tour Info Page
---
Long Beach Community Studies Conference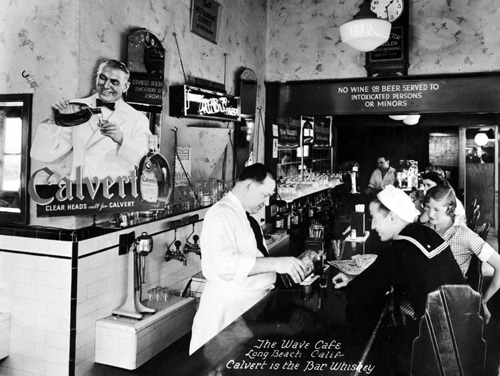 The HSLB and Long Beach City College teamed up to present the First Annual Long Beach Community Studies Conference on September 11, 2010.  The conference brought together over 150 scholars, students and residents to reveal past, present and future trends affecting Long Beach. The Second Long Beach Community Studies Conference will be held on April 26, 2014. We hope to attract additional scholarship about a wide range of local topics.  Historians, geographers, political scientists, anthropologists, sociologists, economists, architects, journalists, demographers, and those working in American Studies, California Studies, women's studies, ethnic studies, environmental studies, health science, Pacific Rim studies, regional development, and other areas to share their research and projects.  The overwhelming success of the first conference gives us great hope to assemble another group of independent scholars, community researchers, faculty members, archivists, librarians, and students alike to discuss Long Beach and its environs.  This year the Port of Los Angeles and the Port of Long Beach are cosponsoring the event. To learn more about this year's conference click here. To present a paper, view the Call for Papers (PDF).
---
CamCHAP
In 2008, the Cambodian Community History and Archive Project (CamCHAP) was established as part of the HSLB. A partnership between California State Universities at Dominguez Hills (CSUDH) and Long Beach (CSULB), and the HSLB, where the collection is housed, CamCHAP ensures that the local Cambodian community is documented and included in the city's historical narrative. CamCHAP founders have conducted ethnographic and linguistic research in this community since 1988, and have collected more than 2,000 photographs, nearly 1,400 English and Khmer newspapers, documents, unpublished manuscripts and reports from researchers, community members, and Cambodian-led and Cambodian-serving organizations. The co-founders, Dr. Susan Needham, CSUDH, and Dr. Karen Quintiliani, CSULB, in conjunction with Julie Bartolotto, HSLB Executive Director, formed CamCHAP to make certain the Cambodian history in Long Beach is accessible to community members, students, and scholars. The collection is now accessible to the public. Visit www.CamCHAP.org.
---
First Fridays
Each month, the HSLB enjoys being part of Atlantic Avenue's popular First Friday Art Walk event. While the gallery exhibits would certainly be enough to entertain the guests, the HSLB often produces special programming for the event. In the past, we have shown films from Lion's Drag Strip, hosted a string quartet, cheerleaders from Poly High School, and featured the 1940s vocal trio, the Swing Dolls. The programs are always free and always fun.
---
Oral History Program
For more than 20 years, the HSLB has collected oral histories. Our youth oral history program is entitled "Tell Me Your Story" and was created by Karen Harper as a celebration for Women's History Month. Ms. Harper worked with the city's elementary, middle and high schools to encourage students to collect the stories from the women in their families. The students turn the oral histories into essays, and the best essays are presented at a public program featuring the student and his or her storyteller. Click here (PDF) to read a few of the essays that have been collected.
In 2008, the HSLB received a two-year grant from the James Irvine Foundation to collect oral histories from individuals who were groundbreakers in the city's history. In 2008, we collected stories from Judge Marcus Tucker, the city's first African American judge; Jean Bixby Smith, whose family owned Rancho Los Cerritos, and headed Bixby Land Company; and Evan Anderson Braude, former city council member whose stepfather served as lieutenant governor for California in the Edmund Brown administration. In 2009, we collected the oral histories of the city's five living past mayors and the current mayor in public forums. The mayors, including Ernie Kell, Beverly O'Neill, Eunice Sato, Tom Clark and Bob Foster, were interviewed by notable officials including Los Angeles County Supervisor Don Knabe and Doris Topsy-Elvord, the first African American woman to sit on the Long Beach Harbor Commission.
---
Workshops & Presentations
The HSLB frequently offers workshops and presentations. Generally offered by HSLB historians, past workshops and presentations have included a how-to seminar on using the archives to conduct research, the 1933 earthquake, the stories of actual "Rosie the riveters" and a reader's theater based on the oral history of the city's first African American judge, Marcus Tucker. Check out the Calendar of Events tab for upcoming events.