The Historical Society of Long Beach is embarking on an online exhibition of images made by Joseph Risinger. A series of educational emails, Facebook and Instagram posts, and tweets will promote a newly digitized collection of images that illuminates the harbor area.

This project is supported by the Port of Long Beach, LA as Subject Residency Program and CSUDH through funding from the Institute for Museum and Library Services. We hope that you enjoy the series.
About The Risinger Collection
In 2018, Mark and Scott Risinger donated their father, Joesph Risinger's collection to the HSLB. It consisted of approximately 250 printed photographs and thousands of 4×5 and 2×3 negatives. The next year, the HSLB and this collection were selected for support through LA As Subject's Resident Archivist Project. Greg Williams at CSUDH's Gerth Archives and Special Collections oversaw the work of resident archivist, Gerard Collins, and student workers. The CSUDH team digitized 1,771 of our Risinger images and completed an inventory. The finding aid and several hundred images will eventually be made available online.

The Risinger's contribution of images is an outstanding complement to HSLB's collections. Other HSLB photographic collections include those from the Winstead Brothers, Lawrence Inman, A. C. Brown, LB Redevelopment Agency, Charles Daugherty, Julian Hiatt one of Risinger's photography teachers, and others. The HSLB also has thousands of photographic prints from the Press-Telegram, decades of the daily paper on microfilm, over 1,000 bound volumes of newspapers. Some of Risinger's images appear in the Press-Telegram and other local newspapers.


Who Was Risinger?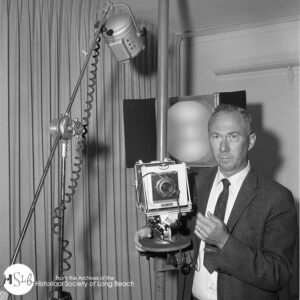 Joseph Risinger was born in 1913 in Cincinnati, Ohio. He graduated from high school in Michigan and attended the Art Academy of Cincinnati for two years. Due to the depression he cut short his education and went to work in a sugar beet field. He worked as a carpenter, a mason, house painter, a machinist, and as part of a threshing crew. After his father's death the family moved to California. In 1945, he attended the Julian Hiatt Photographic School in Long Beach. In 1949, he was hired as a photographer at the Press-Telegram. He earned 26 prizes for photography including California Publishers Association and Associated Press awards. He went on to teach photography at Long Beach City College. He passed away at Long Beach Memorial Medical Center on March 24, 2007. He was survived by his wife Hazel Elaine (Lampros) Risinger. Following her death on October 16, 2018, sons Mark and Scott donated the collection to the HSLB.
Highlights